Here at BlueGrid, the past year was incredible!
Throughout the year, we welcomed a large number of BlueGriders, took part in numerous events, and formed some wonderful new connections.
Let's review all the amazing moments that helped our company enhance its game before we say goodbye to 2022 and continue growing in 2023.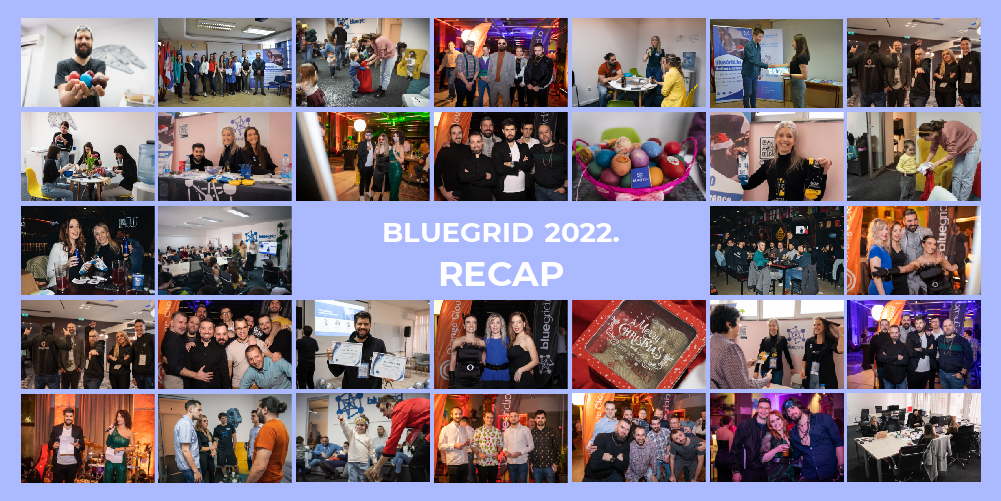 A healthy community is a foundation for success
Our company wouldn't be where it is without our amazing team. We had many reasons to rejoice and plenty of opportunities to connect over common interests and enjoyable activities.
We celebrated our fifth anniversary to start the new year. We've had five amazing years during which we've increased in both experience and size.
As already mentioned, without our BlueGriders, we couldn't have progressed this far.
Together, we accomplished goals and enjoyed each stage of the process.
We recognized each of them for their dedication, vigor, and motivation in March on National Employee Appreciation Day. But since our colleagues are the cornerstone of our business, we believe that every day should be recognized as Employee Appreciation Day.
Easter was quickly approaching, so we as a family seized the chance to plan a fantastic event for our workplace. Many people showed their artistic talents while decorating eggs, and we all had a relaxing day filled with great delicacies like muffins, cake, and of course, pizza.
Without some friendly competition, Easter wouldn't be what it is. Our colleague Aleksandar Matić won this year's Easter tournament, which caused us great joy. We'll see who can dethrone him from his well-deserved place in the coming year.
In between the cakes and games, we engaged in other entertaining activities like paintball and bowling, which showed a glimpse of our competitive spirit. And towards the year's conclusion, when our staff participated in the Serbian Business Run, we got another opportunity to display our remarkable energy.
The Not Fast but Furious team participated in the run for the first time this year, and after a positive experience, you can count on us to return.
Effective communication is crucial and plays a significant role in the work that BlueGrid does.
For our staff, Dejan Živković prepared a fascinating lecture on the Psychology of Communication, that helped us strengthen our abilities and facilitate our work process.
What better way to celebrate the end of this incredible year than to throw a costume party?
Together with our Orange Cloud colleagues, we had a great time laughing, dancing, and reminiscing the year behind us.
Of course, during this time of year, we couldn't forget about the little ones!
New Year came to BlueGrid a little earlier and we had a lovely family day filled with gifts and magic that we will remember for a while. A wonderful way to close out the year and prepare us all to excel in the next one!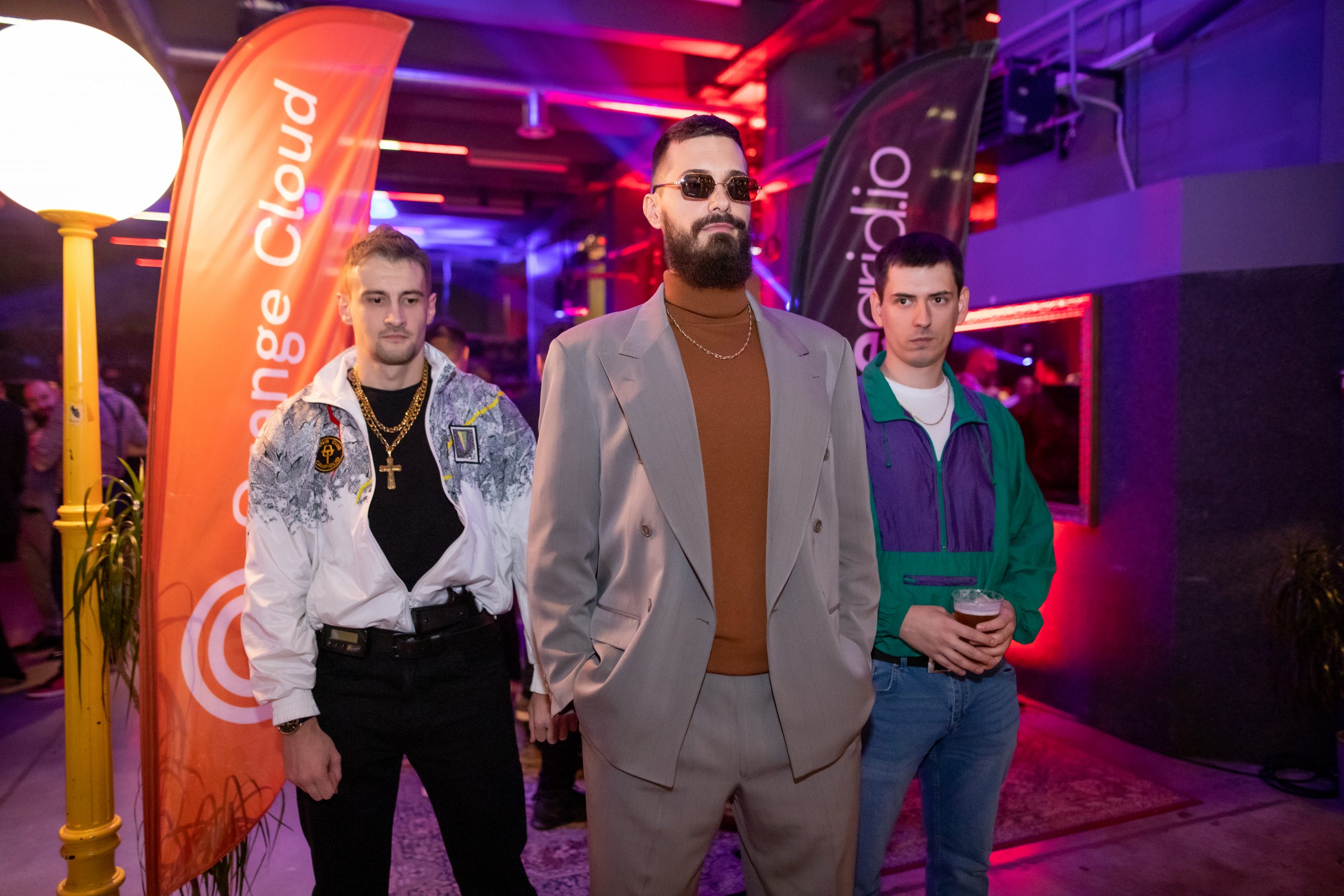 Welcoming brand-new partners
We value our partners tremendously! We work hard to strengthen our bonds with current partners while collaborating with new ones whenever we can. We are grateful for the additional arrivals that this year brought us.
We teamed up with Krypton Labs in June. Krypton is an advanced decentralized cryptocurrency exchange that seeks to reduce your trading expenses.
Nothing in CeFi or Defi currently is more economically efficient than Krypton.
Their business background piqued our interest, and we desired to know more. On our blog, #ClientSuccessStory with Nathan Moore, you can learn more about this topic and get an inside peek at the company from the Co-Founder himself.
Expanding all year round
There have been several noteworthy events this year. BlueGrid planned and took part in a number of activities. By the end of a very busy year, we had welcomed a total of 22 new BlueGriders and grown as a company in many ways.
March was a busy month for internships! Our team welcomed students for two days at the #DaniPrakse2022 event and provided them with guidance and IT industry knowledge.
BlueGrid opened its doors and gave an opportunity to participate in a free online ReactJS course and find out more about the internship possibilities with our company.
In May, 4-week ReactJS frontend training offered 30 participants the chance to study under the guidance of our colleague Radoš Nikolić. The students had an opportunity to put their newly acquired abilities to the test at the end of the course, and the top one was chosen to work as our intern.
We try to provide multiple opportunities for individuals to meet and share their experiences. Therefore, we prepared an #OpenDay in BlueGrid!
At this event, we wanted young, bright people to meet one another, exchange stories, learn anything about the IT business that sparked their interest, and provide a fresh viewpoint that could help them in their future professional endeavors. In our opinion, it was a complete success!
We had a packed schedule in September, which began with a fantastic lecture by Ivan Bjelajac on the prospects and challenges surrounding the Blockchain and Web3 industry.
With his incredible industry knowledge, he helped us comprehend and learn more about the Web3 market, presenting all the facts in a professional and easy-to-understand manner.
The BlueGrid crew also took a flight to New York this year. By attending the amazing SmartCon conference for three days, we increased our knowledge and made many new connections. Trust us when we say, we would love to relive this unique experience once more!
For the highly interesting Reboot Develop Blue conference, we traveled to Croatia. A specialized European conference for the video game industry and game developers is held each year in Dubrovnik. As usual, we enjoyed meeting new people and grabbing every opportunity to expand our horizons.
The end of November was marked with a Link2Job fair. Visitors got the opportunity to participate in a panel discussion, share their experiences, and learn more about Cloud, Web3, and Cybersecurity industries.
We must thank the incredible Docker crew for helping us spread the word about the Link2Job expo and for creating a lovely atmosphere for all of us to enjoy.
The spectacular Industry Talk event was held at the BIT Belgrade Institute of Technology to open the final month of the year.
The BIT students had the chance to learn more about Frontend and React.js and to hear intriguing perspectives from our colleagues who had previously attended the same university. We sincerely hope that we inspired them to go after their IT goals!
We were given yet another fantastic opportunity to interact with people this month. BlueGrid participated in a Math&Co career fair organized by the Student Union of Mathematicians - SUM.
Our colleagues had a truly amazing day talking to and sharing experiences with brilliant young minds. They also participated in a fascinating panel discussion, alongside colleagues from MVP Workshop, Bosch Serbia, and Seven Bridges that provided a fascinating insight into various aspects relevant to the IT industry.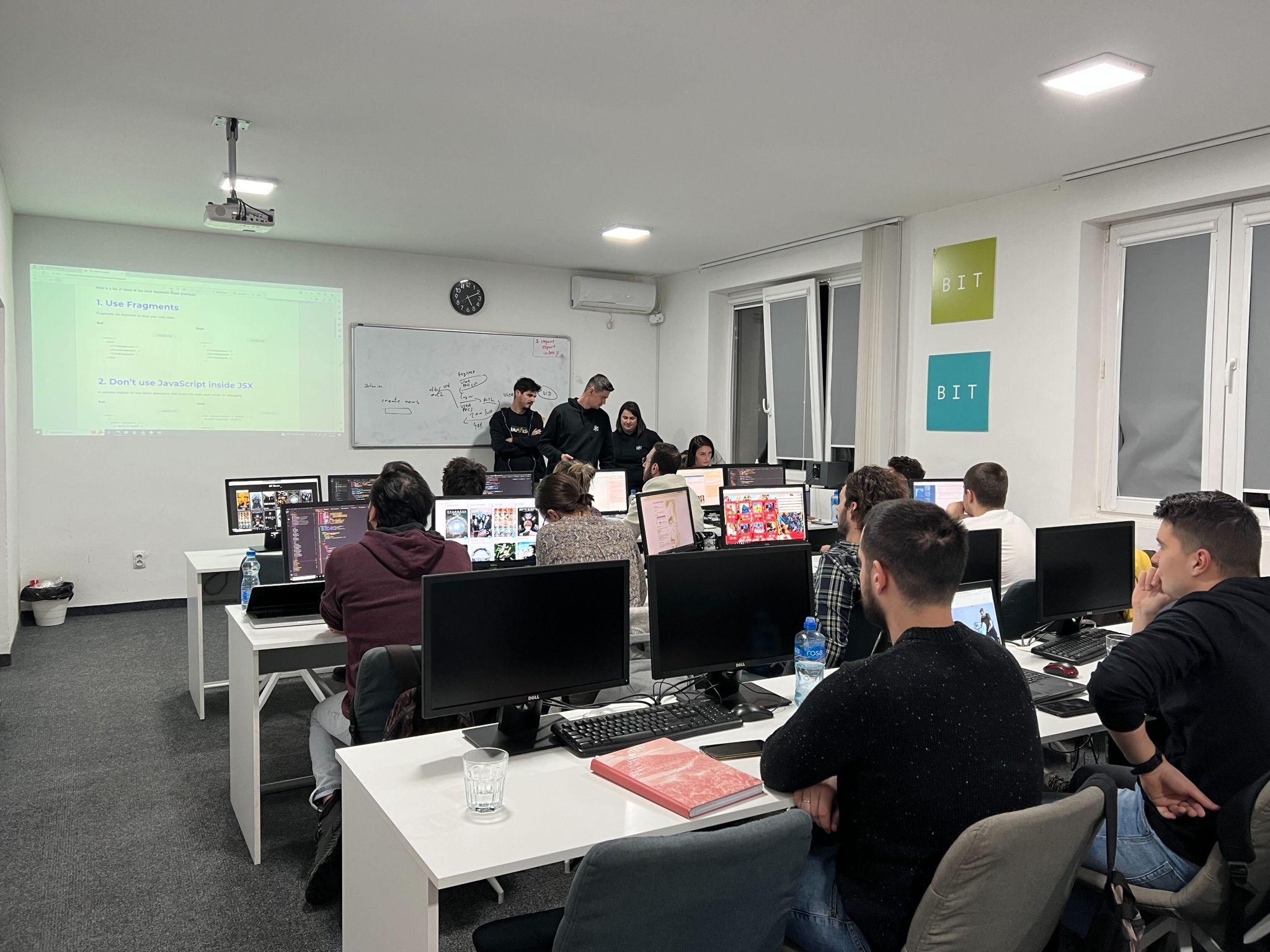 Sharing with the community
A year wouldn't be complete without helping others in our community.
We want to encourage young people to explore IT and learn more about what made it our passion in the first place. Ideally, they'll follow in our footsteps, but even if not, they'll at least get a chance to study it in class.
In other events, some youngsters have already discovered their love, which is robotics!
We visited Novi Sad to cheer on the bright young brains competing in the Eurobot, an International Student's Robotic Contest.
We are proud of the amazing Mi Robotics team for taking home first place at this year's Eurobot contest and we wish them the same success next year!
Overall, we could not have asked for a better year. We are appreciative of all the new team members as well as the new experiences we have acquired. In the following one, we'll keep thriving and striving to get better as always.
Cheers to us and the years to come! From all of us at BlueGrid, we wish you a Happy New Year! 😊