#InsidePeople with Dragan Malinović
Have you ever thought about what it was like to be in the software industry when the frontend and backend developers didn't even exist, and web developer was the common name for more roles?  
Challenging, crazy, and unimaginable for sure, but sometimes being a pioneer in business means being brave and passionate enough about it, moving forward, and finding the right ways to learn more about it. 
That was the beginning of Dragan's career story…but when he combined his "calling" with the hobby he enjoys, everything became more interesting. Rhapsody of sun, sea, cruise and such awesome places to visit became his daily routine.  Changing ground life with life on the sea, playing the keyboard in the band there, and getting in love with remote programming created a new chapter. 
In this chit-chat, our colleague talked more about his remote position in BlueGrid- why he likes it and his favorite workplace abroad. To give clear context to his journey in the IT industry he also shared technologies he learned from the early beginning till now and what's that he is working on today. 
We are sure you will enjoy this interview, and also you will find some interesting stories from his perspective- so let's meet Dragan. :)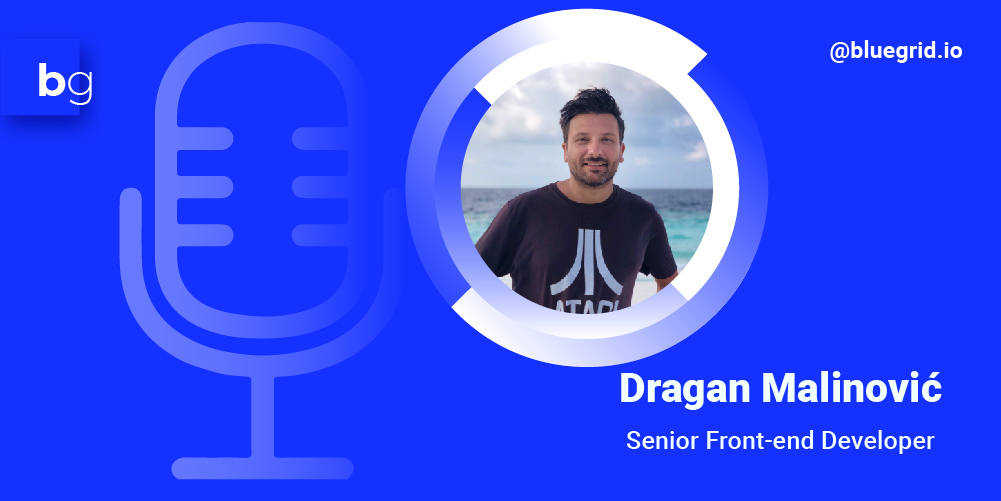 You have been in the software industry for many years, so we can certainly say that you are a senior there. Therefore, can you tell us do you remember how it all started?
Dragan: It all started back in 2001, 2002, when the internet was becoming a thing. I started to work as a technical support in one local internet provider company. Then I learned to design and create websites, and the rest is history. :)
Thinking about your daily work activities, what is your favorite part of your job?
Dragan: Actually, not having specific daily work activities is my favorite part. :) I started 20 years ago. Of course, back then remote work was unimaginable. So for 15 years, I was working in various companies, working from 9 to 5 in the office. In 2016 I started to work as a remote developer because I got an offer to work on a cruise ship as a musician. Since then every day is different, and that is beautiful.
You are also a world traveler, spending a lot of time traveling around the world by cruise ship, so what was your favorite country to work from and why?
Dragan: On the ship, the internet is not so good. It is usable, you can send messages, and do git pulls and commits. But for calls or downloading or uploading bigger files, it's not so good. Not to mention that it is expensive because they use satellite connections. So, work-wise it is better to be in Europe because then it's easy to buy an EU sim card and to have mobile internet whenever a ship is in the port.
So let's say a country to work from: is Spain. But… if we ignore connectivity problems, I would definitely pick some tropical destinations like the Caribbean or Seychelles. :)
One more awesome story from your cruise journey- you play a keyboard in a bend there, so how did the keyboard come into your life? How did you find that job and combine it with programming?
Dragan: It all started when I was 7. My father bought me a computer, and my mother bought me an accordion. So, since then computers and music are the only two things that I know in my life. :) Until I started to play on cruise ships, I was playing in a few of the local bands here in Serbia. There were usually gigs happening on the weekends. So on weekdays, I was having a normal 9-5 job, and on the weekends I was playing with the band.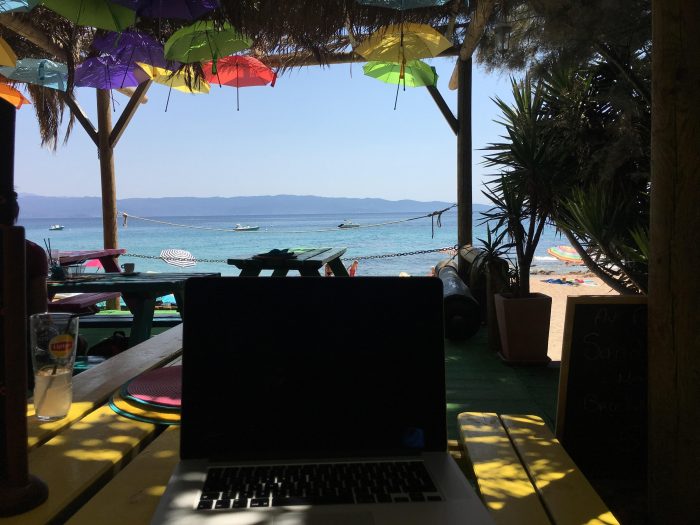 Could you share a little bit about technologies you currently use and what you find inspiring in the project you are working on?
Dragan: Currently I am a front-end developer doing mostly React, React-native, Javascript, CSS, and HTML that goes along with it of course. There were exciting times during the past 3 years when we were building the whole platform from scratch.
What was the biggest challenge in your current role?
Dragan: I started a long time ago. During all those years of my developer career, a lot of things have changed, and a lot of new techs happened. Say, like, a few years ago React was not invented. When I started there were no frontend or backend developers. There was just a web developer. We did it all, from design to databases… So I guess the biggest challenge was to learn all that new stuff on a daily basis. To summarize: In the developer world, you need to run just to stay in the same place.
 When it comes to working in BlueGrid, how would you explain it in one sentence?
Dragan: The best company with cool people. :)
Do you have advice for those interested in your field?
Dragan: Learning and hard work pay off through the years. I often hear young people say how they want to learn to program and to make a lot of money fast. That is usually not how it goes. You need to be a geek and really love those stuff and then it all becomes fun.