A page builder is a tool that allows you to create complicated websites more quickly, even if you have no prior knowledge of web design or development. With the correct tools, you'll be able to create websites that rival the work of many pros. Furthermore, you will not be required to spend thousands of dollars and months on the process.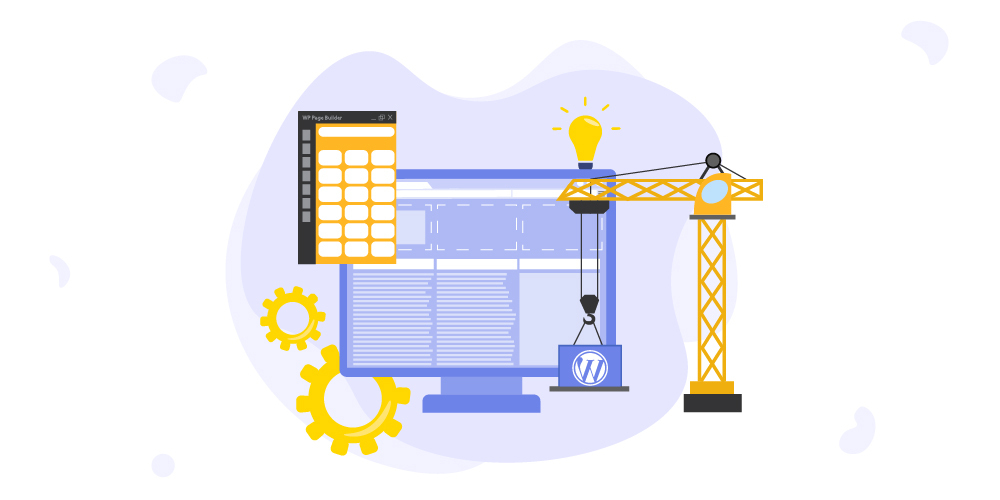 So, are you looking for a quick and simple approach to create and customize your WordPress site? Drag and drop WordPress page builder plugins come in handy in this situation.
You can design, change, and adjust your website layout with WordPress page builders without writing any code.
Some of these popular page builders became more than just a drag & drop tool. They became a whole platform, that includes themes and plugins. Also, with these platforms, you can integrate a lot of other plugins made by different developers, for shop or marketing.
Advantages of using a page builder
Many beginners find it challenging to alter their WordPress page layouts when they first start a blog.
While many commercial WordPress themes come with a variety of page layouts, the majority of them are exceedingly difficult to customize for those who aren't familiar with code (HTML / CSS).
That's where page builders come in.
#1 No need for code
Everything you use, from your operating system to the websites you browse, is powered by code. To function effectively, most websites require thousands of lines of code and hundreds of files. As a result, creating a website from scratch is time-consuming, especially if you aren't using a Content Management System (CMS) like WordPress.
WordPress relieves you of a lot of labor and allows you to be more productive. However, you'll almost always want to change the style and appearance of your content. Page builders are built from the ground up to assist you in doing exactly that.
#2 You can use pre-built elements
Page builders function by giving you a large number of pre-built elements. These elements are sometimes referred to as modules or 'blocks.' Furthermore, in most page builders, the way they work is pretty similar. You'll use rows to divide the page you're working on, and then select elements from a list to fill in the gaps.
At first, the sheer amount of modules available can be overwhelming. The idea, though, is for you to have access to every single component you'll need to create a quality website. You won't have to install extra plugins or waste time figuring out how to set them up this way.
#3 Using elements or templates to create a fully functional website
As mentioned above, using page builders, you are using pre-built elements, or templates to create a website.
The difference between elements and templates is, elements are pre-built blocks that you use to create a website from scratch. While templates are pre-built pages or parts of the page. For example, an about page, the home page, etc. So, what you basically do is, you can just insert the pre-built page and change the text or images per your own needs.
#4 Create websites fast by using templates
The biggest benefit of using page builders is that they are extremely efficient. This is in addition to the fact that they allow you to design websites without having to write a single line of code. It could take weeks or months to build a website from the ground up. On the other side, if you know what you're doing, you can complete the task in days or even hours using a page builder.
Plus, by employing templates to jumpstart your designs, you can speed up the process even more. As said, templates are pre-designed page layouts for specific pages.
Some of the most popular page builders
#1 Elementor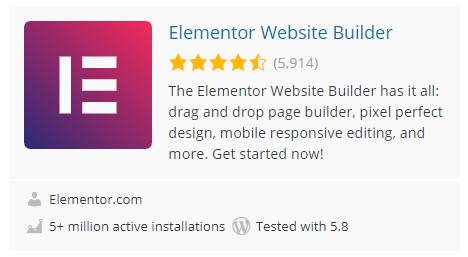 Elementor is a sophisticated drag-and-drop WordPress page builder plugin.
It's a live page builder plugin, so you can view your changes as you edit them with this page builder. Create sections first, then choose the number of columns for each section.
Then, from the left panel, drag and drop widgets into your area. It includes a plethora of widgets, including the most common website elements.
From simple image and text widgets to more complex accordions, sliders, testimonials, icons, social networking, and tabs, there's something for everyone. Each widget has its own set of options.
It also comes with a lot of pre-built templates that you can easily install.
There are free and paid versions.
You can read more about this page builder in our article.
#2 Divi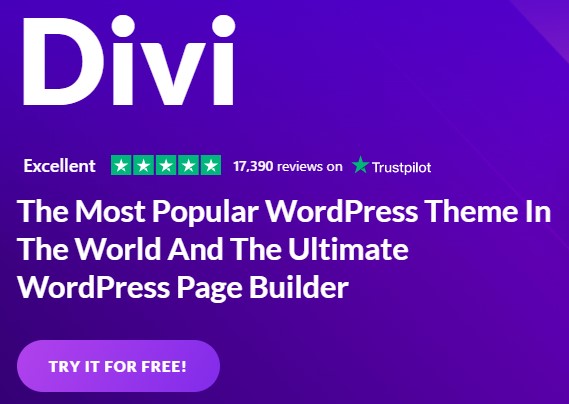 Divi is a WordPress page builder and drag-and-drop theme. It is really simple to use and includes more than 20 layouts/templates for various types of websites.
The Divi Builder is a visual drag-and-drop page builder with a true WYSIWYG editor (what you see is what you get).
You may start editing your page right away by clicking on it and seeing a real-time preview of all changes. To see your new design, you don't need to save and click preview.
Divi includes 46 content modules that you can drag and drop into your design. You can arrange them in three different section kinds and 20 different row types, as well as configure each element's advanced design parameters.
Divi allows you to quickly design any type of custom page layout you want.
The price is starting from 89$/year.
#3 Beaver Builder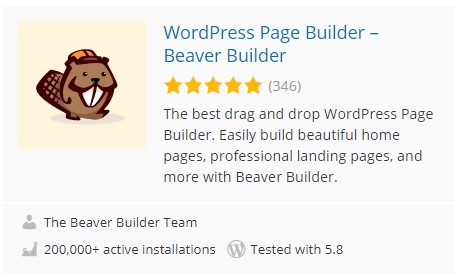 Beaver Builder is a popular WordPress drag-and-drop page builder plugin.
You may rapidly become acquainted with their user interface and begin using their built-in onboarding tour.
Beaver Builder has a drag-and-drop interface that works in real-time. You can view all of your changes as you make them by dragging and dropping objects from the right sidebar into your page. You may alter the characteristics of any element on a page by clicking on it.
There are modules that let you add almost everything you may want including sliders, carousel, backgrounds, content blocks, buttons, and more.
It also comes with over 30 finely designed templates for landing pages that make it super-easy and super-fast to create stunning website layouts.
Beaver Builder has been updated to work alongside the new WordPress Gutenberg editor.
The price is starting from 99$/year.
Conclusion
Page builders for WordPress are really useful tools. With a little practice, you'll be able to create attractive and functioning websites in a fraction of the time it takes to create one from the ground up.