Both WordPress and Wix are website-building platforms, although they take very different approaches: Wix is a website builder tool, and WordPress is a CMS (or Content Management System). It is essential to comprehend this distinction before choosing.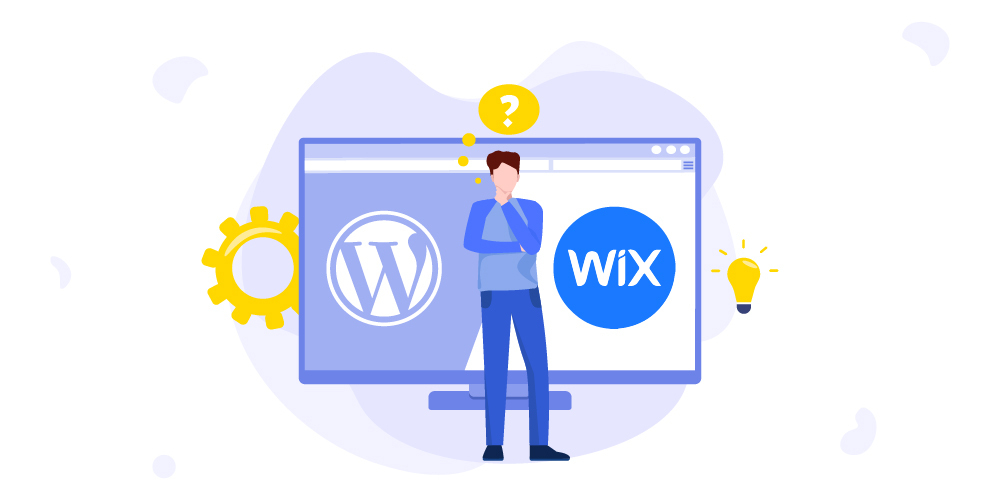 Website builders like Wix are generally simpler to use but less customizable. They also provide hosting, so you don't need to set one up, but you can never transfer your website from Wix to another web host.
CMS or Website Builder
Although it has a longer learning curve, a CMS like WordPress is very configurable. You must set up WordPress on a web server, however, it is not as difficult as it may seem (there are plenty of hosts offering 1-click WordPress installation). WordPress is open-source, so anyone can use and change it for free (though hosting, themes and plugins can all cost money).
There are many other ways that Wix and WordPress differ, including in terms of templates, hosting, features, and customer service. Also, WordPress itself has Page Builder plugins that can create a website from scratch, similar to Wix.
Just keep in mind that there is no right or wrong option in the Wix vs. WordPress discussion. Instead, the tool should be appropriate for the task; base your choice on the structure you are creating.
Please note that in this article we are talking about WordPress.org, not WordPress.com. WordPress.com is a distinct service that is totally different and more akin to a website builder. With WordPress.org you don't have any limitations, since it is an open-source platform.
The difference in the Editor
The editor is one of the most visible distinctions between Wix and WordPress.
The editor on Wix is visual and drag-and-drop. You may move any element to any location on a page, just like Powerpoint.
Recently, WordPress revamped its editor as a block-based editor called Gutenberg.
The Gutenberg editor for WordPress abstracts the page away from the user—you can't view the entire page in the editor, including the header, sidebar, and footer. As a result, you'll continue to navigate between the editor and the live website to check how the page appears:
But, if you install one of the Page Builder plugins, like Elementor you will have a totally different experience.

Elementor's distinctive and intuitive editor will help you create your pages with a simple drag-and-drop method, similar to Wix. But you will have the power of WordPress behind it.
In general, WordPress's user interface is more cluttered than Wix's, but this is to be expected. WordPress is more complex than Wix, and more complex software demands that it be more practical and abstract.
WordPress is open-source
Being an open-source CMS, WordPress allows for contributions from anyone. This is both a significant strength and a weakness.
One benefit is the abundance of open-source community-made plugins and themes available for WordPress.
But WordPress' diversity may also make a mess of things. WordPress backends are notoriously difficult to understand. Long technical settings pages are possible, and wording can frequently become esoteric and jargon-filled.
Additionally, using one of WordPress' numerous themes or plugins is never entirely successful. There are frequently incompatibilities, and fixing them may require users to make changes to the code—something not everyone is comfortable doing. In order to determine which plugin is best to use, simply look at the reviews when browsing for the plugins, and how many installations the plugin has: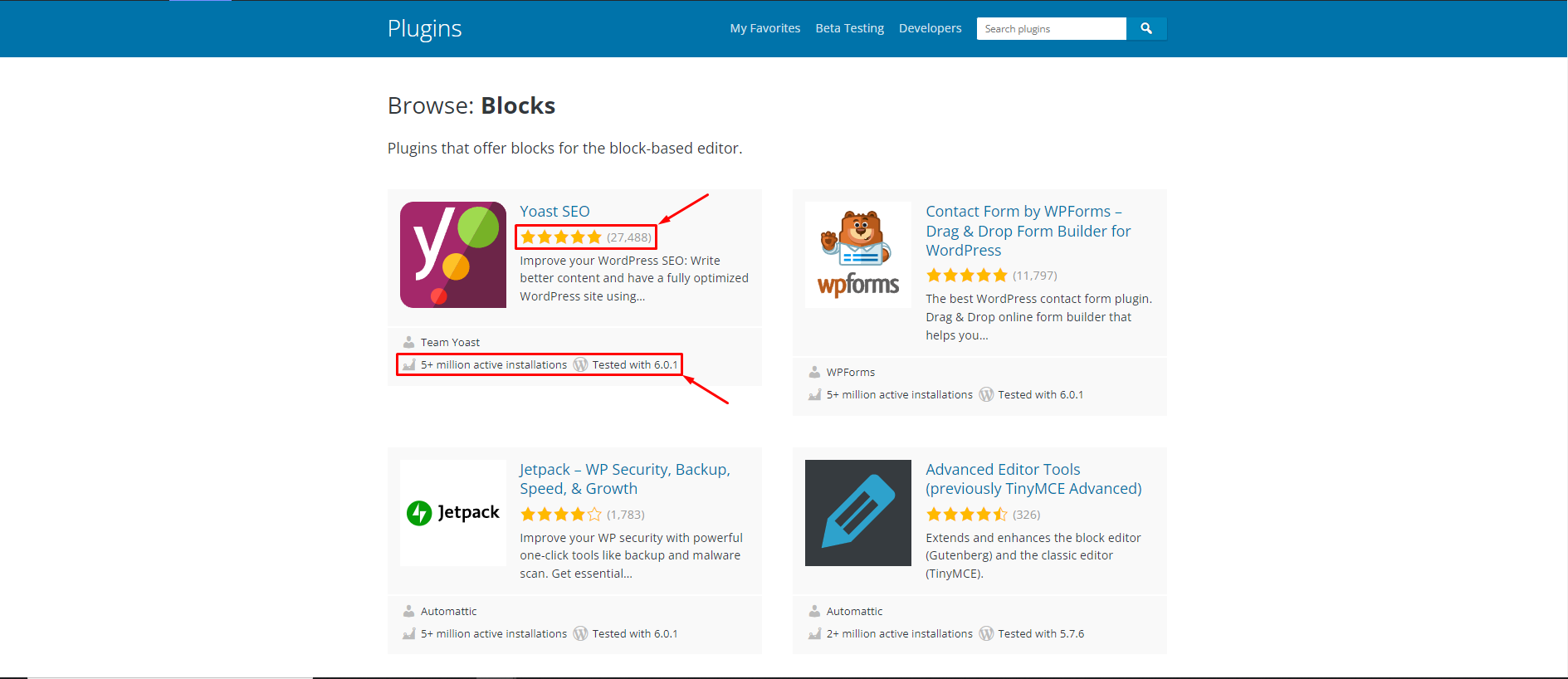 Having in mind that WordPress is open-source, know that you can create basically everything that comes to your mind.
Wix is entirely distinct. They provide an App Market that resembles WordPress plugins in appearance but is actually different. It is a tiny, well-curated collection of more than 300 apps, which is in no way comparable to the enormous repository of WordPress plugins. In contrast to WordPress, Wix tests every app for compatibility, so you can be sure that they will connect flawlessly (there are rarely any compatibility issues or need to tweak code).
With themes, the same is true. Wix offers fewer themes than WordPress, with around 500… However, none of the themes need any coding adjustments to function properly. Additionally, Wix's visual theme editor allows for such extensive customization that you could create your own theme from scratch straight away.
Themes and plugins
You'll probably discover Wix has all you require if you're creating a website with traditional features. You may definitely find a WordPress theme or plugin that supports any unusual functionality you require.
So, what constitutes an uncommon feature, and what is conventional? An image block is a common feature, for example. There are numerous image options on Wix. However, Wix does not allow you to create a photo gallery that scrolls horizontally (from left to right). That's way too unusual. To achieve it, though, you may discover a WordPress plugin.
The richness of WordPress' ecosystem—which includes more than 55,000 plugins and 30,000 themes—is one of its strongest points. In other words, if you have a particular feature or aesthetic in mind, WordPress undoubtedly can accommodate it.
WordPress plugins are available for a variety of features. The number of features Wix can support will never be as great.
But if you only require standard functionality, you can go on with Wix.
Websites that follow the rules don't strive to reinvent the wheel. They are the standard websites for eateries, charities, photographers, and other small businesses. They require Google Maps, contact forms, and photo galleries, but nothing particularly special.
Difference in SEO
The practice of improving your website for search engines like Google is known as SEO, or search engine optimization.
The fundamental website SEO capabilities required to rank a website are all present in Wix. With Wix's integrated SEO tools, for instance, you can include meta titles and descriptions, alt tags, 301 redirects, structured data, and more.
Additionally, Wix consistently updates and adds new capabilities to its Wix SEO Tools.
However, WordPress is a better option for advanced SEO due to its versatility and the variety of plugins available for WordPress SEO. One of the best WordPress SEO plugins, RankMath, for instance, has capabilities for content optimization, rank tracking, internal link building, checking for indexing problems, complex schema construction, and much more.
Security
There is only one "website security" victor between Wix and WordPress, and that is Wix. Why so? To comprehend, you must first be aware of the causes of website hacks.
Here are a few of the frequent causes of website hacks:
The website server isn't kept up to date.
The website runs out-of-date JavaScript, it has an unsecured theme or plugin,
Security regulations contain flaws. For instance, the administrator may use a weak password or grant people unneeded access.

Wix is extremely safe because it is a closed system and because Wix's team handles everything from server upkeep to script changes. Additionally, Wix is very picky about which third-party apps are featured on the Wix App Market; all third-party developers are required to adhere to high-security standards.
In contrast, anyone can create a WordPress plugin or theme and publish it online. Additionally, users' websites will be vulnerable to hackers if those plugins or themes are improperly written. Additionally, if you choose to use WordPress, you'll be in charge of updating all elements that affect the security and functionality of your website, including PHP, WordPress core, plugins, themes, SSL certificates, and more.
That is why it is really important to choose plugins and themes that are verified. You can simply look at the plugin/theme review and how many times has been installed.
You can read more about WordPress Security here.
Wix vs WordPress prices
Wix and WordPress have very varied prices, making it difficult to compare them.
Everything you need is included in a single Wix package, including hosting, e-commerce, themes, apps, and customer support. (While most apps on the Wix App Store are free, some do require a fee.) Wix Premium Plans - https://www.wix.com/upgrade/website.
The WordPress core is free, which makes it unique. However, you might have to pay for hosting, plugins, and themes.
Conclusion - which is better?
There is no one right response. If you want to rapidly create a website and never have to bother about maintaining it, Wix is best; if you want flexibility, WordPress is better.
But do not forget that WordPress can also offer options to create websites with ease. Since there are tons of premade templates for WordPress which can be installed through Themes or Page builders.