#InsidePeople with Luka Šćekić, Nemanja Makuljević and Aleksa Radović
Being in a team can mean so many things: working on a mutual goal, helping each other, struggling together to fix certain issues, making progress together, growing, and let's not forget having fun together. Therefore, every team has its own way of handling its day-to-day tasks, and also every team finds its own way to have fun. For example, in BlueGrid people from API/TE team have a gathering in the office every Friday when besides working together they play FIFA on the Sony and their wonderful energy fills the whole office. Luka Šćekić, Nemanja Makuljević, and Aleksa Radović have been working together as a part of this team for almost a year now.

In this #InsidePeople interview we wanted to hear from them what working in a team means to them, also this is the first time that we are having an interview with three people at the same time so prepare yourself for some amazing answers from three different perspectives. :)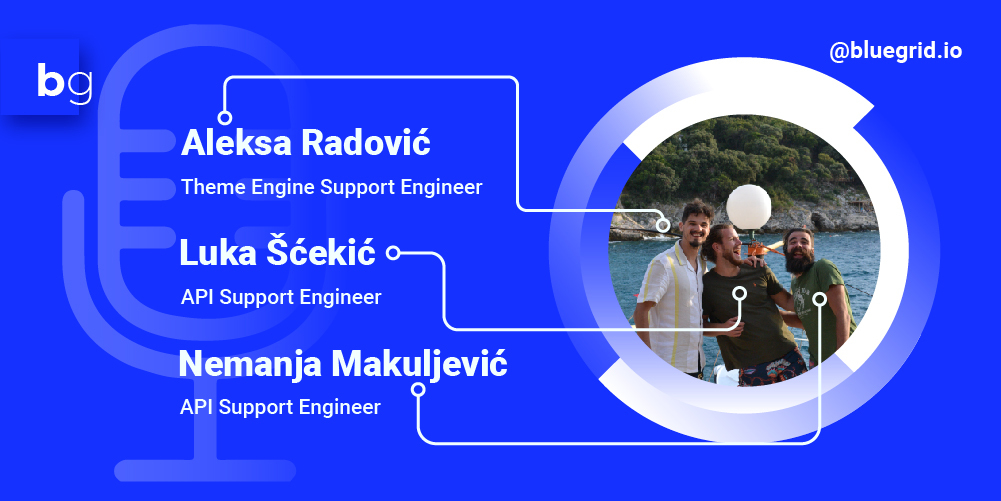 Okay, dear people! For the first time, we are having an interview with three people from BlueGrid at the same time, this is going to be fun. I want to start with a simple question - can you tell me what you do in BlueGrid and what are your day-to-day activities?
Luka: My role is API support engineer, and the goal is to provide all the help our merchants need to overcome the issues they are facing when utilizing our API. Besides that, I'm responsible for providing them with solutions that require thinking outside the box, and that is something that can be challenging yet exciting.

Nemanja: API team's role is to maintain our APIs and help our customers to achieve their goals much easier, using our APIs. We are starting our day with a daily team meeting discussing our previous day. This is the time for frequent requests and edge cases our customers face and we are sharing problems and solutions. Our ecosystem is changing frequently so we need to track changes and usually test it ourselves to provide the best possible assistance to our customers. As we are growing we strive to help our stakeholders grow themselves.

Aleksa: My primary responsibilities as a member of the Theme Engine team are to maintain and develop the Theme Engine and Themes code bases, which are the frontend customer-facing Customer Portal themes. On a daily basis, I also perform various tests on our Customer Portal, and if any bugs are discovered, I create a JIRA ticket. I also maintain contact with various teams throughout the organization. This includes providing support to our merchants, answering questions about our code, and debugging issues within their custom codes.
Thank you for your answers! Now, let's have some fun. Can you describe each other? Luka let's start with you, how would you describe Nemanja and Aleksa?
Luka: Although I have known them for less than a year, we've gotten along quite well. For Aleksa, I would say he is a very hard-working and committed person from whom everyone can learn something about work and life as well. He is also the best FIFA player in the office, at least when I'm not around. Nemanja is our newest team member, but his skills amazed me. He started taking the initiative and working on the tasks just a couple of weeks after joining. His communication and social skills helped us accept him as part of the team and as a friend even outside of work in no time.
Wonderful! Nemanja, how about you, what would you say about Luka and Aleksa?
Nemanja: Aleksa is a very pleasant and relaxed person. Sometimes when there is a lot of work to do in just one working day he is the best stress reliever according to his behavior and the way he performs his duties. If you are not sure how to manage your work, Aleksa is your best man. Luka is not talking much but when he does there is a lot of space for you to learn something. If you are not sure how to solve some issue or edge case you are facing just think about what would Luka do if he was in your place and you are good to go. As we like to say "like a doctor".
Thanks! Aleksa, your turn, can you tell us a little more about Luka and Nemanja?
Aleksa: Luka and Nemanja are wonderful people who are extremely responsible in their roles and make excellent teammates. Always willing to assist with any API-related queries and great personality overall. Luka is a wonderful person with a fantastic way of life. You can learn a lot from him, both at work and outside of work. Always ready to assist you with whatever you require in the most efficient manner. Nemanja is our newest team member; however, he has grown fondly to all of us in such a short period of time because of his approach to people and his hardworking etiquette.
Working in a team is rewarding but it can also be challenging. Can you tell us from your own point of view: What does working in a team mean to you?
Luka: From a working point of view, working in a team brings a chance to learn new things from your colleagues, spread knowledge, hear practical information, encounter problems together, and overcome obstacles with less effort. On the other hand, it is a fun experience that gives you a chance to meet new people who can become your great friends, which exactly happened in my case.

Nemanja: Sometimes it does not matter what you do but who is next to you. Being part of a group contains many challenges. As a member of a team, you need to make sure you are contributing daily. We are learning from each other. Working in a team means to me being aware of our strengths and weaknesses as well. I am striving to achieve my best version and fulfill my full potential by constantly seeking for improvements and learning new skills. The group is strong as far as the weakest member is. That is the rule of nature.
Aleksa: It means you're more than just an individual, and you'll have to put in more effort when working together - which, when done correctly, works wonders. It means that we can use our various approaches to think up multiple solutions to the problem. It means having someone to back you up as well as someone that you can back up. When we're tired, our teammates can give us the extra energy we need to get through the day.
What is the most interesting thing that you would point out when it comes to working in BlueGrid?
Luka: It would absolutely be the people I'm working with in BlueGrid, and the bond we've built between us. Everybody feels accepted and the energy there is amazing.
Nemanja: Definitely people. Regardless of position, they are all very supportive and always happy to help you as far as they can.
Aleksa: It's fascinating to be surrounded by people from various fields of IT and to see how those differences interact in a good way.
Apart from your job, what would you say is something that you are also great at?
Luka: It is not that easy to single out one thing, but if I need to choose, I would say I'm great at motivating myself to learn and try new things every once in a while.
Nemanja: Sport, basically any but basketball haha. Exploring either finding a new cafe to taste some coffee or finding a new place to travel. I am also good at the communication field and get to know people's personalities for a very short period of time. I would say working as an HR contributes to that.
Aleksa: I'd say I'm pretty good at providing interesting and historic facts about various sports because I watch a lot of different sporting events, my favorite being Formula 1. Fun fact: I speak fluent Spanish since I spent a year living in the south of Spain.
Amazing! Now tell me can you describe your team in three words?
Luka: Resilient, talented, and inspiring.
Nemanja: Support, connection, and healthy atmosphere.
Aleksa: Friendly, Supporting, Motivating.
Are there any misconceptions about your roles, what is something you would like people to learn about your roles?
Luka: The role itself is perfect for the ones who want to get started with programming. The main benefit is that it allows you to better understand the real issues the merchants are interfering with and use that as an advantage in future job positions.
Nemanja: I do not think so. Since the role is kinda new, from my point of view. I would say there is a lot of space for learning and improving. For example why APIs are such a great and powerful tool.
Aleksa: Apart from my friends and family not knowing what I do or, in their words, "something involving computers," I'd say my role is well defined and specified. It allows you to develop as a young person in IT by providing numerous opportunities to learn new skills and improve your existing ones.
Thank you so much for your time guys, just one more question - What advice would you give to people who are entering the IT industry now?
Luka: Try to be consistent with anything you're doing and be sure you are doing what you love and what makes you feel fulfilled.
Nemanja: First to find their passion. Something they can imagine working on in the next couple of years. Whether it is development, QA, or DevOps for example it does not matter. What is important is to stay focused and stick to one field in the beginning. If it is development focus on one programming language like #C or Python, learn basics first and OOO principles first, and later on it is only necessary to break the ice in the form of the first job.
Aleksa: Allow yourself to develop and learn new skills. The more you learn, the more valuable you will be to yourself and your team. Take your time developing and don't rush into things. Most importantly, remember to continue to develop as a person. Good work is always recognized.