Don't set entrepreneurship as a goal | Interview with Ivan Bjelajac
Ivan Bjelajac, CEO and Co-Founder of MVP Workshop
Ivan Bjelajac has been a part of the Tech Industry for 17 years, either as an Engineer, Tech Executive, or company Founder. He contributed to building Devana Technologies - one of the most successful Serbian tech companies. Their SaaS ManageWP was acquired by GoDaddy, one of the biggest hosting companies in the world, and for two years Ivan Bjelajac was the Operating Director of GoDaddy Europe.
He was voted one of the "30 under 30" most successful Serbian entrepreneurs in 2011. After that, he shifted his focus towards developing his company MVP Workshop, which specializes both in consultancy and R&D related to emerging Blockchain technologies.
We spoke with Ivan regarding the current situation in the IT industry and what obstacles did his company have to face due to the COVID-19 pandemic.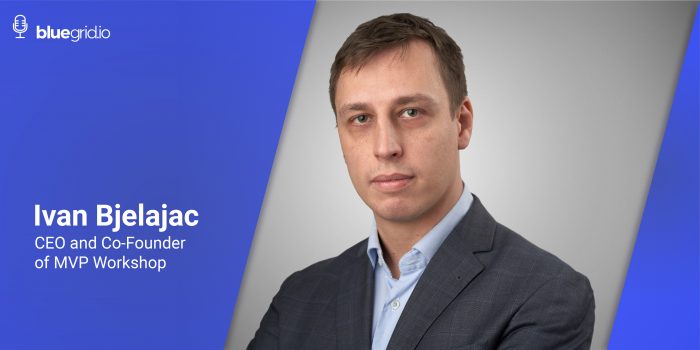 How has Blockchain influenced the world?
Ivan: I guess you could argue it still has not.
Blockchain is a supportive technology that lets you introduce trust to fully digitalized systems. Most systems are not actually fully digital yet, so we will probably see more blockchain use in a few years when AI, IoT and shared big data becomes a bigger part of company processes, and in five to ten years when it's a part of our everyday life.
Blockchain did let us have cryptocurrencies, which are already heavily influencing some countries in Africa and South America, where the local currency is very volatile and foreign currencies can be hard to come by, and we do see more and more people using decentralized finance (DeFi) projects, but this is still new and adoption is too low for us to consider this something that has already changed the world.
Why did you choose entrepreneurship?
Ivan: I never did. My primary motive was always to be able to work on problems I am passionate about and to be able to make decisions regarding the road I take in life. If I can also maximize my earnings while doing that, that is a big plus.
In most cases that is easier to do when you are the one calling the shots but starting a company or being an entrepreneur is far from the only way to be in this position. I think it is better if you don't set entrepreneurship as a goal, but as a means to an end.
Which is most important to your organization—mission, core values, or vision?
Ivan: I am not sure I am able to differentiate it in that way. First of all, I am historically bad at formulating the company mission and vision in an easy way, and, second, all three are reflecting different things for your organization (strategy, personnel, and tactics).
If I had to choose, I would have to go with the core values, because they are mostly the same in the last few startups I had a chance to run.
What obstacles did you or your company have to face due to the COVID-19 pandemic and how did you overcome them?
Ivan: A lot of our clients were companies that are early-stage startups in Web3/Blockchain space. COVID affected their fundraising, ability to gain licenses, or added a level of uncertainty for the way how they can serve their userbase, so a lot of them paused their activities.
For us, that meant that we had to reorganize, and we started working on our own products more. I think that proved to be a good thing as we will look to launch some of them in an extremely near future. In terms of everyday work, it did not affect us as much as some other companies, as we are a remote-first company, so we were already working in a distributed manner.
How do you handle the pressure and manage stress?
Ivan: I drink and have low expectations. :)
What drives you to keep going when it is tough?
Ivan: Working in tech is not that tough. We in IT became a bit soft when it comes to expecting how a workday looks like, and maybe it is a good thing. When it comes to MVP Workshop – we are currently following Web3 and blockchain and we will see where that takes us.
We accepted a long time ago that we are a part of a very volatile industry and things can change quickly and be accountable for the income of close to 50 people and their families is sometimes a bit stressful when things get tough, but right now we are all doing well and it's possible to easily switch projects, companies or industries is necessary.
So, I am along for the ride, and hopefully, we are right, and it will lead to a better future.
What are your future plans?
Ivan: Our focus is still on our main client (Celsius.Network) and helping them build the best financial ecosystem for crypto users. We are also launching our own open-source framework to scaling L2 blockchain solutions in the Ethereum ecosystem, as we believe it will help solve many of our own problems, as well as some industry-wide problems we are having.
Outside of that, we are heavily looking at how we can contribute to blockchain being a bigger part of the Finance, Publishing, and Supply Chain industries. We hope to work with interesting partners in these areas and to also publish our own products to test the market.
If you had one piece of advice to someone just starting out, what would it be?
Ivan: It is very important who do you decide to do it with, what industry and market you choose, and to be very passionate about the problem you are solving.
You can contact Ivan Bjelajac here.
Other BG interviews you can read here.