Difference between WordPress page builders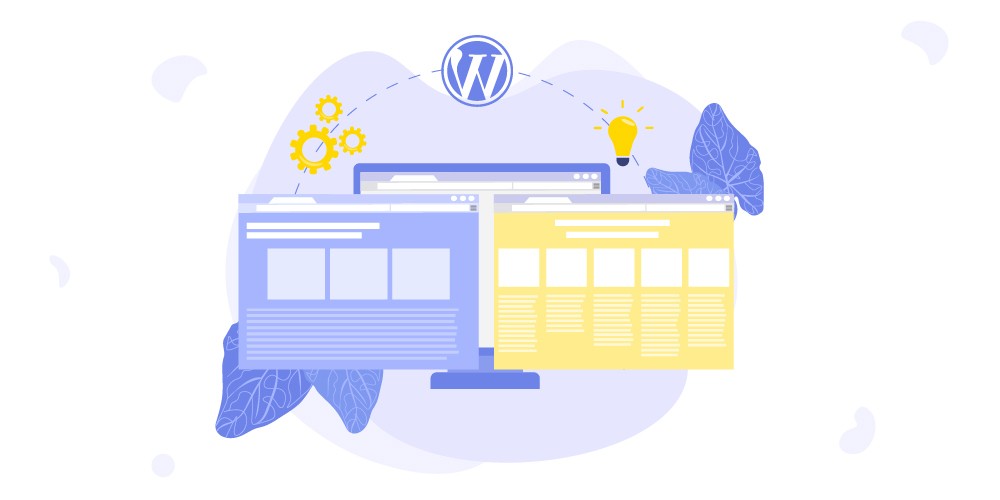 You don't need any programming skills to customize articles and pages with WordPress page builders. The page builder plugin replaces or enhances the normal editor and includes a variety of drag-and-drop building elements such as galleries, buttons, and text fields. However, there is more than one WordPress page builder available. We will talk about 5 different WordPress page builders.
Website page builders have come a long way in recent years, and now provide a lot of options that make it easier to create a website. They're also useful when creating websites for clients.
Drag and drop features are common in website builders, allowing for quick development of concepts, designs, and even website updates.
In the text below we will review five page builders.
#1 Beaver Builder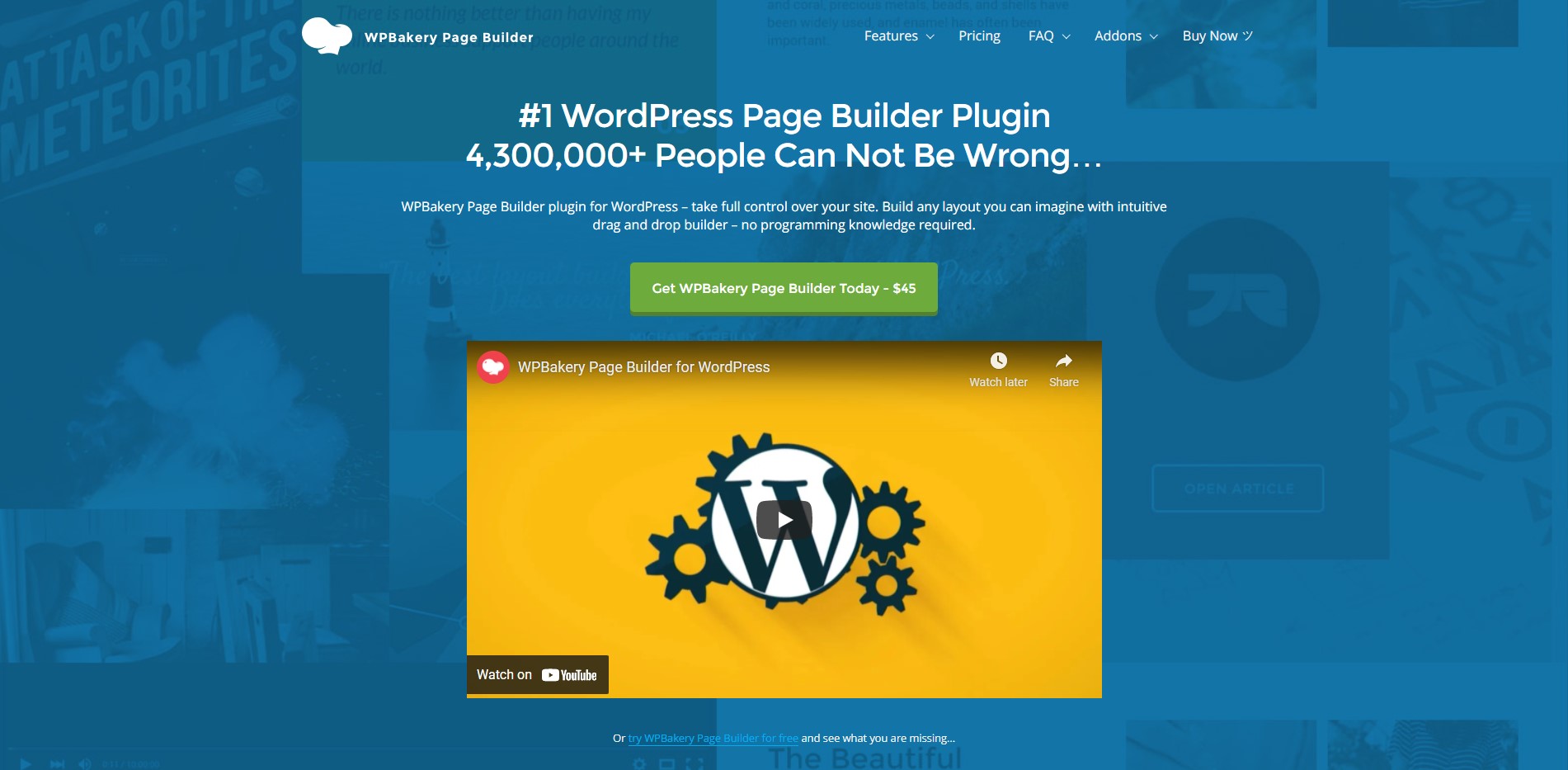 It was once known as Visual Composer, but that tool has now been separated from WPBakery, with the page building features staying with WPBakery.
WPBakery Page Builder is a front-end and backend page builder that makes it possible to create responsive designs. It's a good pick because it comes with various templates and a lot of versatility.
All themes should be compatible with this WordPress page builder. This compatibility is most likely due to the use of shortcodes for all items. The shortcodes will remain in your text if you disable the plugin.
The user interface is simple, yet it is out of date. It is substantially slower than the competition and requires manual saving. However, depending on how you want to use it, the benefits of this WordPress page builder may exceed the drawbacks.
This WordPress page builder is suitable for both developers and beginners. The plugin is simple to use, full-featured, and allows you to easily use pre-made templates as well as develop your own.
You can check out more about this page builder on their official website.
#2 Divi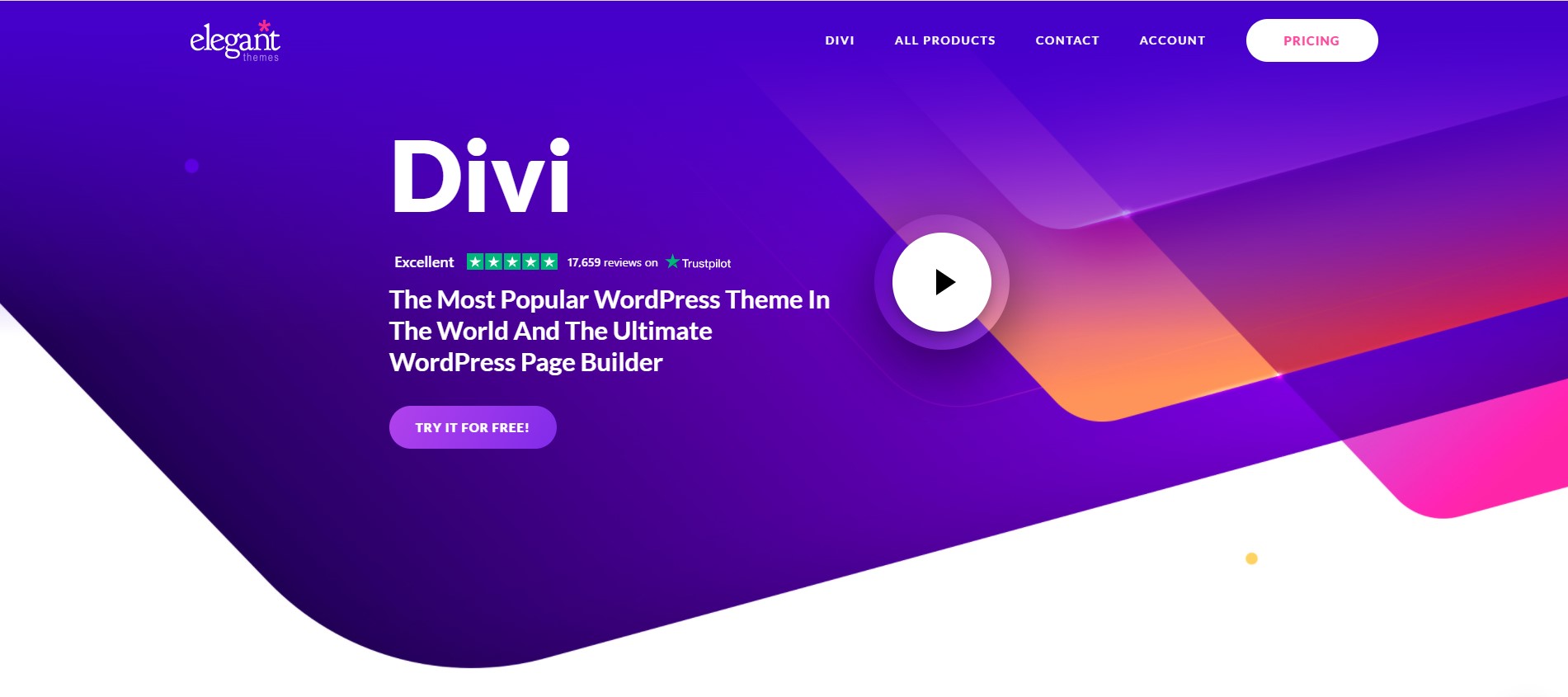 Divi is another drag-and-drop WordPress plugin to consider. You can use Divi to create full websites visually, with drag-and-drop elements for easy reordering.
Divi Builder is a modern, user-friendly website builder with a lot of functionality and roughly 50 ready-made pieces. There's both frontend and backend editing here, like with the other WordPress page builders, with the quick text editing standing out in the former.
A downside of this WordPress page builder is the big CSS file, which makes manual modifications more complex. In complex layouts with many pieces, you'll also note that handling in edit mode is substantially slower.
Because Divi Builder, like most other WordPress page builders, relies on shortcodes, when you deactivate the plugin, your layouts will vanish. When you reactivate the plugin, your layouts will reappear. Nonetheless, Divi is well worth a look, thanks to its robust features and user-friendly layout.
Anyone can use this WordPress page builder. Divi Builder has a large number of design components and layouts to pick from, making it easy for both new website owners and professional designers to discover what they need.
You can check out more about this page builder on their official website.
#3 Elementor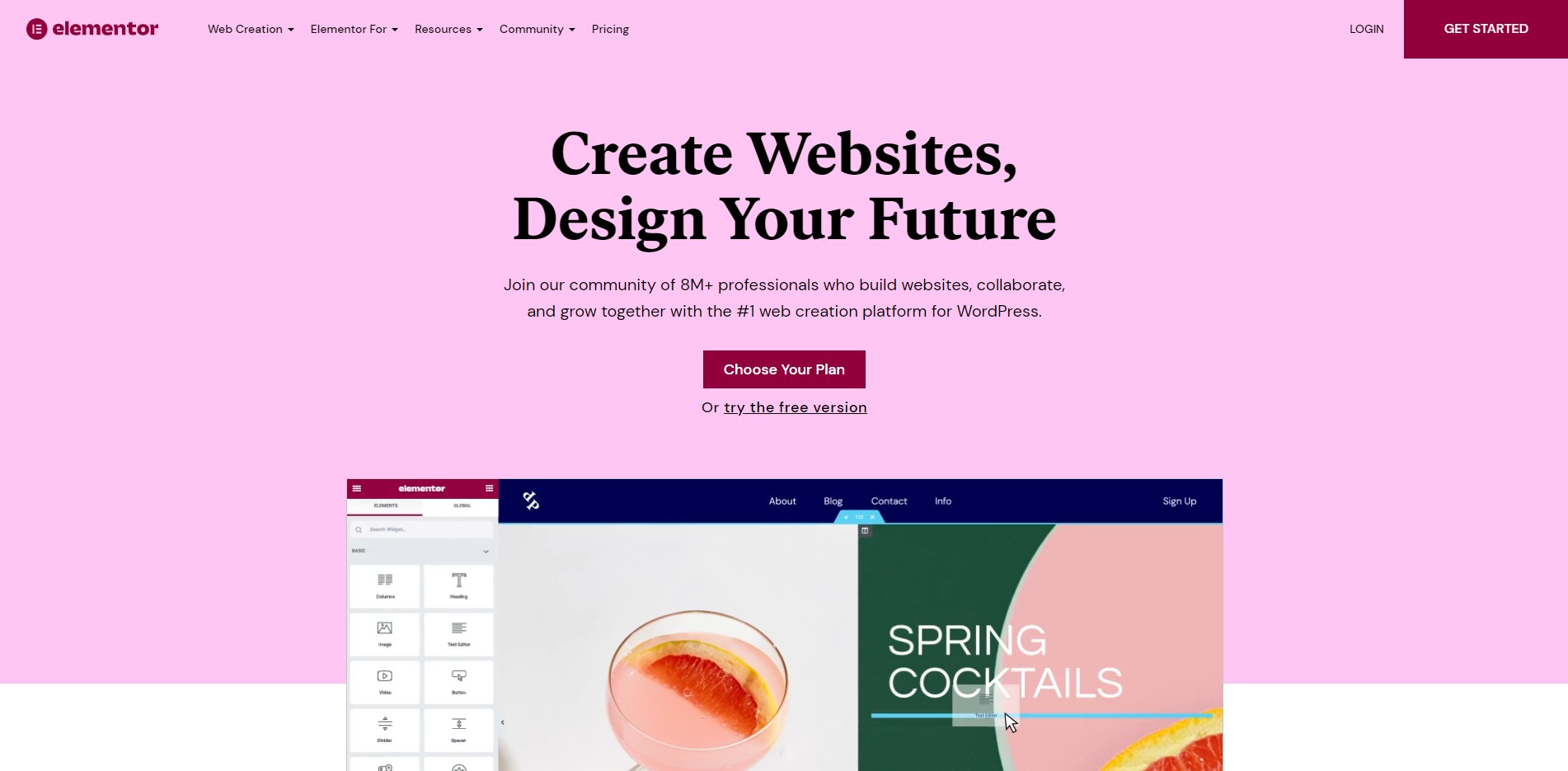 One of the best free WordPress page builder alternatives is Elementor. While there are paid plans available, the free version includes a drag-and-drop website editor, 40 widgets, 30 layouts, and responsive editing. As you explore Elementor's premium features, it becomes even more remarkable.
Elementor, a WordPress page builder, is one of the newest on the market, yet it has already been installed on over 5 million websites. The successful interface and outstanding ease of use are most likely to blame for the rapid success.
You may edit posts, pages, user-defined content, and even category pages in the frontend and backend with the premium features. This means you won't have to design your content in the admin area; instead, you'll be able to see it from the perspective of your visitors and edit it with drag and drop in the WordPress page builder.
Buttons, headlines, animations, galleries, and many other elements are available in Elementor for use in your layout. The possibilities are virtually endless when using specific Elementor plugins. You may use the individual Elementor blocks to integrate WooCommerce and a variety of additional extensions and themes.
For a rapid start, Elementor's free version includes over 30 elements and 60 predefined layouts. Menus, tables, and price lists are among the 26 modules included in the Pro version. These are very important if you want to display WooCommerce products or incorporate social networking.
This WordPress page builder is for anyone who has a single website or wants to try out a website builder for free. The premium plans offered by Elementor are great for developers and come at a fair price.
You can check out more about this page builder on their official website.
#4 Beaver Builder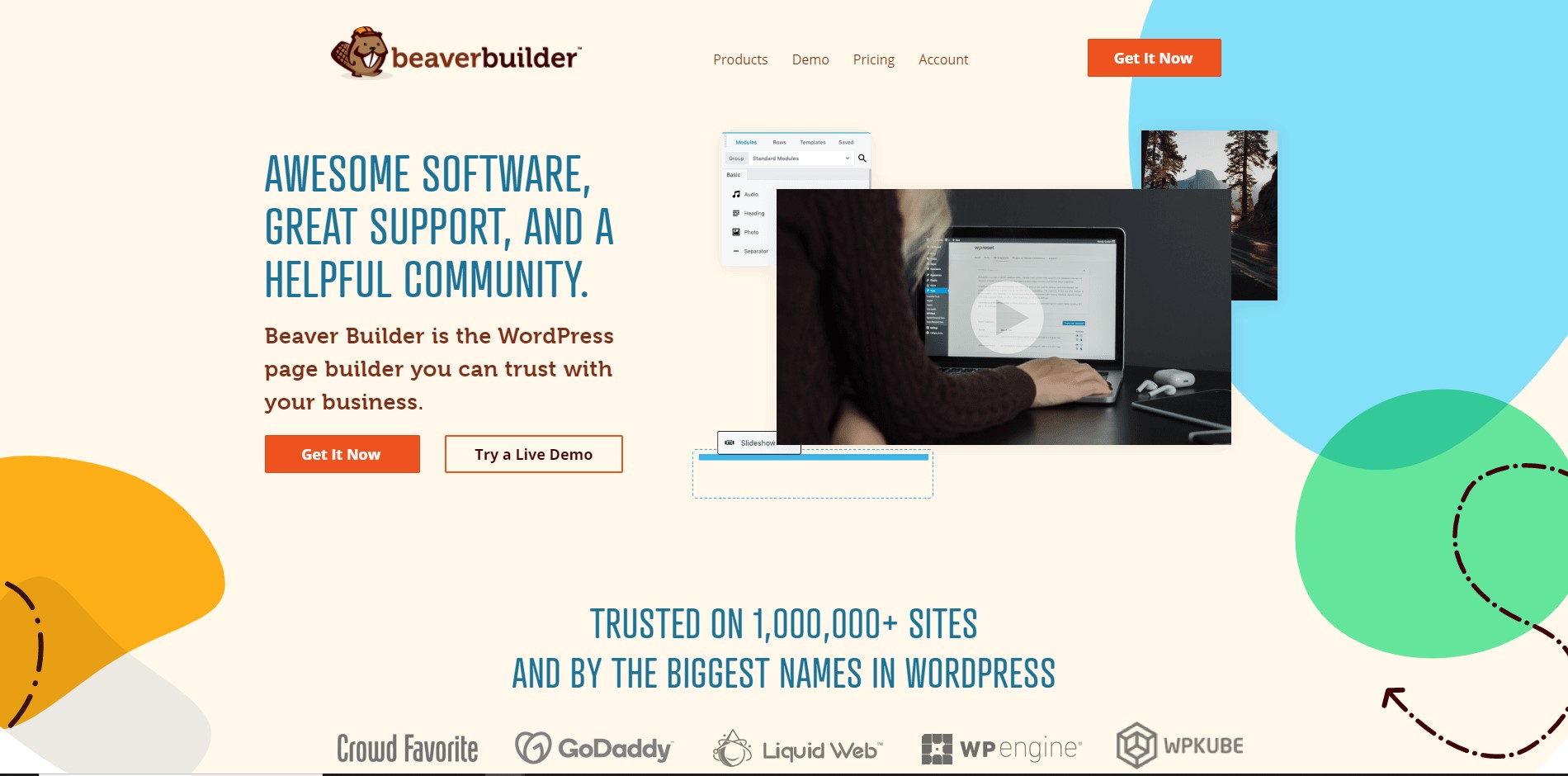 Beaver Builder is a popular drag-and-drop WordPress plugin that greatly simplifies the website-building process. It includes a page builder plugin and a framework theme to help developers build websites quickly and efficiently.
The Beaver Builder is a dependable and easy-to-use tool. Unlike the competitors, this WordPress page builder prioritizes performance and stability over a long list of features. You'll be able to produce the same design results as the competitors, but you'll have to spend time learning how to utilize it without a vast element collection first.
Once you've gotten used to the user interface, you'll find Beaver Builder to be a strong and dependable tool. It does not generate shortcode, unlike most WordPress page builder competitors, and instead sets layouts directly via HTML and CSS.
One advantage is that the layouts can be kept even after the plugin has been uninstalled. You can later alter layouts without Beaver Builder and mix and match different themes.
This page builder is great for developers that want a lot of module options. The Pro plan, which includes the Beaver Builder theme, will appeal to some developers.
You can check out more about this page builder on their official website.
#5 Brizy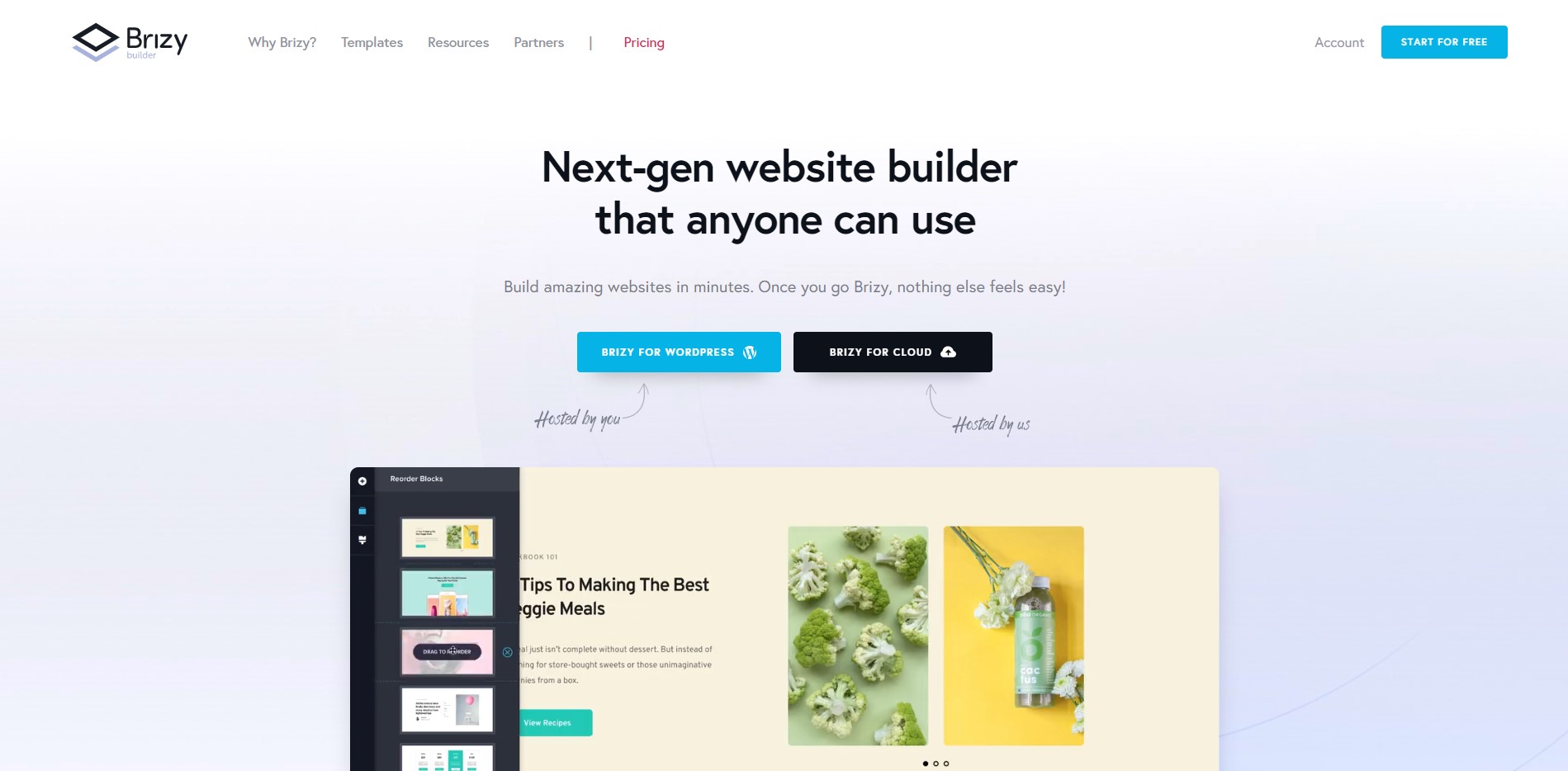 Brizy is another WordPress editor plugin with a lot of features. It's developed with React and includes numerous templates to help you get started with your creative process.
Brizy is a WordPress page builder that is still in its infancy. The developers put a strong emphasis on a modern interface, as well as a large number of high-quality designs and templates. You can change your pages without having to navigate through numerous menus on the front-end. Simply click on the text and make changes as you would in Word. In the same way, you can quickly construct new page elements and column layouts. Brizy runs really smoothly and consistently.
Brizy Pro is required if you wish to alter more than only the content of your posts and the appearance of your website. Editing additional footers or headers is similar to Visual Composer in that it merely takes a few clicks. Role management is an excellent idea if a group is working on your website. You can control who can modify what with role management. Brizy, on the other hand, does not use shortcodes and so provides far greater flexibility. You won't have to deal with swaths of missing code after disabling Brizy.
You can check out more about this page builder on their official website.
Conclusion
The WordPress page builders discussed in this article are among the greatest options for a quick but effective design. Aside from the functionalities, the user experience is also important. That's why, before making a final decision, you should try out each page builder for yourself.