When WordPress started?
Ever since WP was released in 2003 by American developer Matt Mullenweg and English developer Mike Little, it continued to grow constantly. Now, WordPress powers more than 42% of the website on the whole internet.

In this article, you can learn when WordPress started and who founded it. Furthermore, you can learn more about its history and how WordPress is doing now.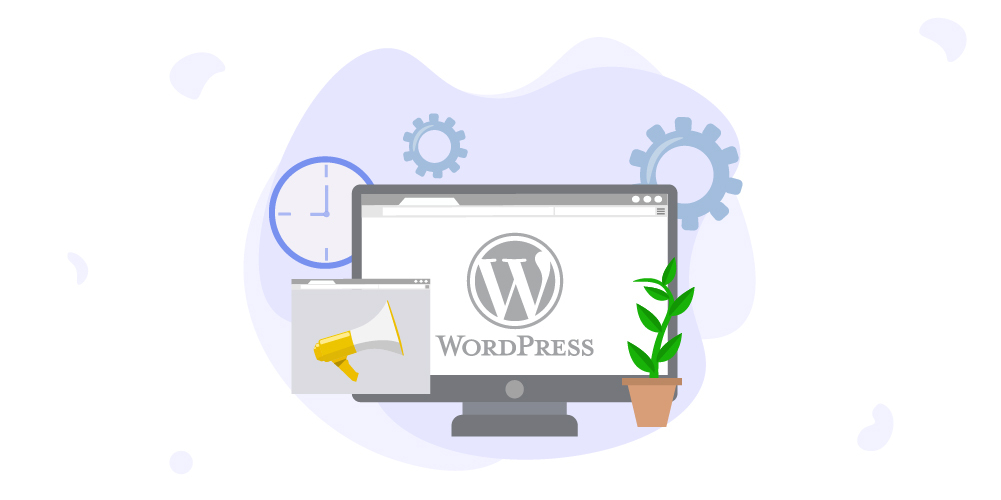 When WordPress started? - A short history of WordPress
WordPress was born because the main developers of an existing blogging software called b2/cafelog decided to stop developing it. Two b2/cafelog users, Matt Mullenweg and Mike Little decided to build a new platform on top of it in 2003.
They probably had no idea that they were about to embark on a trip that would eventually benefit millions of people around the world. Generate thousands of employment, and provide a livelihood for a whole industry of developers, designers, authors, bloggers, and web publishers.
2003
Matt announced the release of the first version of WordPress on May 27, 2003, and the community reacted well to it. It has been built on top of b2 Cafelog, but with substantial enhancements. The first version of WordPress introduced a new admin interface and templates, which are in accordance with XHTML 1.1.
2004
WordPress version 1.2, released in May 2004, included a plugin architecture. Users and developers may now extend WordPress' functionality by building their own plugins and sharing them with the rest of the community.
WordPress 1.2, an ambitious project. It would provide users with a mature, stable, easy, and versatile platform with features that rivaled proprietary competition. Therefore, with this edition, WordPress's user base increased.
2005
WordPress 1.5 launched in February 2005. It included Pages, comment moderation capabilities, a new default theme called Kubrick, and a fully new Theme System. Read how to build your own theme in our article - How to build a WordPress theme?.
In December 2005 WordPress 2.0 introduced a new admin dashboard. Even so, the administration screens in WordPress were completely overhauled in this new admin section. A lot of new things came out that year, like the pre-installed Akismet anti-spam plugin & wp-db-backup plugin for backup.
2006
Automattic filed the trademark registration for WordPress and WordPress logo on March 1, 2006. The co-founder of WordPress, Matt Mullenweg is also the creator of Automattic. Today, Automattic owns several companies, like WooCommerce, JetPack, etc.
2008
In 2008 Happy Cog worked with WordPress on a project to create a new admin interface, which was a success. Along with the new admin interface, a lot of new features came in. Like shortcodes, one-click upgrades, and built-in plugin installation, etc.
2010
The WordPress trademark and logo were given to the WordPress Foundation in June 2010 by Automattic. This was a watershed point in WordPress history since it insured that the project would continue to grow without the need for a company or a group of developers to keep it going.
WordPress 3.0 launched on June 17, 2010. It was a significant step toward using WordPress as a content management system. Custom post types, better configurable taxonomies, custom backgrounds, headers, menus, contextual help on admin screens, and more improvements.
2011
WordPress introduced post formats and an admin bar in 2011.
Some pretty cool WordPress plugins were developing robust eCommerce platforms on top of WordPress at the time. WordPress users were able to establish online stores and powerful eCommerce websites, as a result of this.
2012
Theme customizer, theme previews, and a new media manager were all added in 2012. These features made it much easier for novice users to create image galleries and evaluate themes before switching to a new one.
2013
The new automatic updates function came in with WordPress 3.7 in 2013. It allowed WordPress to update your site's software for minor changes automatically. The capability of automatic updates is very similar to that of the Google Chrome browser.
WordPress has already become the most popular content management system on the planet at this point.
WordPress 3.8 was released in December 2013, and it included MP6, the new WordPress admin interface. This new design was responsive, with the goal of giving users a better user experience regardless of device or screen size.
2014
On April 16, 2014, WordPress 3.9 launched. The goal was to improve the visual post editor in WordPress. Drag & drop images right into the post editor are now possible. Users can now edit photographs directly in the editor and view gallery previews from within the editor. Live widget previews, audio playlists, and other improvements are added in WordPress 3.9.
Because of the releases of WordPress 4.0 and WordPress 4.1., WordPress core was refined further during the course of the year.
2015
Versions 4.2, 4.3, and 4.4 launched in 2015. Improved translations, emoji support, theme customizer, and infrastructure for the WordPress REST API were all priorities in these releases.
In the same year, Automattic purchased WooCommerce, the most popular WordPress eCommerce plugin (the company founded by WordPress co-founder Matt Mullenweg).
2016
WordPress 4.5, 4.6, and 4.7 launched in 2016. Each new edition brought with it a slew of new features and enhancements. During the year, the most important developments were simplified plugin and theme updates. Also, content recovery via browser storage, and a custom CSS option for theme customizer. WordPress.org announced actively supporting HTTPs by the end of the year.
2017
Audio, video, pictures, gallery, rich text, and HTML were all added as default widgets in the 4.8 and 4.9 versions launched in 2017. These updates also formed the foundation for WordPress's new block editor.
2018
WordPress 5.0 was introduced in 2018 with a completely new editing experience. Gutenberg is the codename for the new WordPress block editor.
WordPress has improved the block editor over the previous two years in order to provide a complete site editing solution.
Present
WordPress is always changing to meet the demands of the millions of web publishers who use it across the world. We can confidently predict that it will continue to empower individuals all over the world to develop amazing web environments.
Now, WordPress powers more than 64 million websites. Around 661 websites go live each day.