Web Hosting options review
We have talked about speeding up your WordPress website and one of the important parameters was web hosting. There are several web hosting options available, all of which will get your site online. Although they all serve as a storage location for your website, the amount of storage space, control, the technical expertise required, server speed, and reliability are all factors to consider.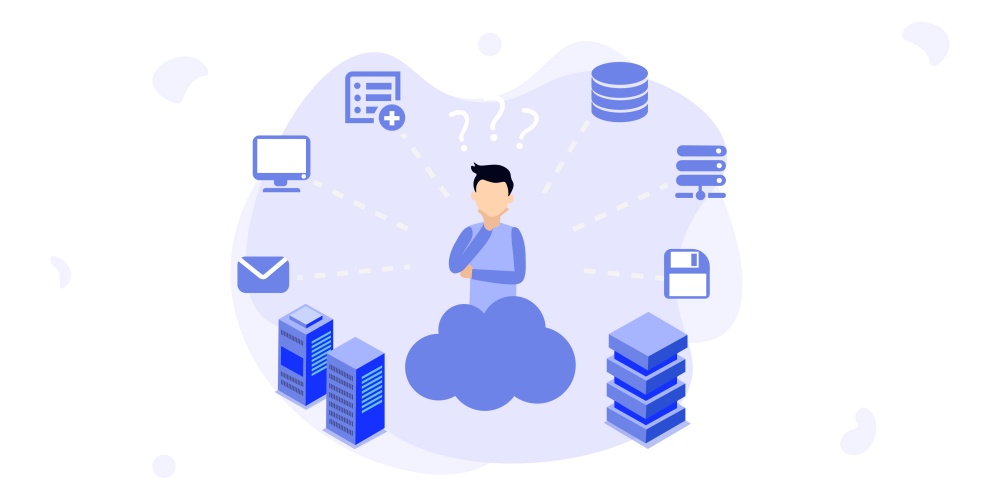 In this topic we will talk about eight types of hosting:
Shared web hosting
Reseller web hosting
VPS hosting
Dedicated web server hosting
Cloud hosting
Managed hosting
Colocation
WordPress hosting
Shared web hosting
For entry-level website hosting, shared hosting is ideal. This is where your website will be hosted along with many other websites on the same server. Domains on a shared hosting package share the same server resources, such as RAM and CPU. Shared hosting plans, on the other hand, are relatively inexpensive because all resources are shared, making them an ideal choice for website owners in their early stages.
In most cases, beginners will find shared hosting to be the most straightforward way of hosting their website; whether you're a small business owner, a community group, or a individual who wants to blog, your site will be online. Website builders, WordPress hosting, and the ability to contact clients are all popular features of shared hosting plans.
While shared hosting offers website owners more straightforward access to the internet, the downside is that you'll be sharing the server with several other websites. This means that spikes in traffic will wreak havoc on your website's user experience. So, this means that this kind of hosting plan is great for website owners that do not have a large amount of website traffic.
Check out Hostgator as one of the popular shared hosting options.
Reseller web hosting
Reseller hosting accounts are essentially shared hosting accounts with additional resources to assist you in reselling hosting space. These plans include more technical control (often through the Web Host Manager (WHM) control panel), billing tools to help you invoice clients and other benefits.
Among the advantages are:
website templates for free
the hosting company manage the clients' technical support issues, which is known as white label technical support.
make your business appear even bigger by instructing your clients to point their domain name servers to ns1.yourwebsite.com.
If you want to start a company selling web hosting, reseller web hosting is the way to go.
Otherwise, if you're just getting started, stick with a shared hosting package.
Virtual private server (VPS) hosting
A VPS hosting plan is the perfect compromise between shared and dedicated hosting. It's perfect for website owners who want more power without having to pay for a dedicated server.
On a VPS server, each website has its own personal space on the server, but all of them are still sharing the same physical server. Although VPS hosting gives website owners more customization and storage space, it can't handle extremely high traffic or usage spikes, which means that the site's output can also be influenced by other sites on the server.
VPS hosting is typically used by website owners who want dedicated hosting but lack the necessary technical expertise. VPS hosting combines the cost savings of shared hosting with the power and flexibility of dedicated hosting. Advanced users and those who need complex program and package installations would find this to be an excellent option.
Check out AWS EC2 as a popular VPS solution.
Dedicated web server hosting
Dedicated hosting allows website owners to have the most control over the server on which their website is hosted. That's because you've reserved the server exclusively, and your website is the only one on it. This means you have complete root and admin access, allowing you to manage everything from protection to the operating system you use. However, all of this comes at a cost.
One of the costliest web hosting options is dedicated servers. They are typically used by website owners who have a lot of traffic on their site and need full control over their servers. In addition, the implementation and ongoing maintenance of the server necessitate a high degree of technological competence.
Checkout Hostgator and Hetzner as popular options for dedicated Web Hosting.
Cloud hosting
The technology industry's latest buzzword is cloud hosting. When it comes to web hosting, it refers to a group of computers that collaborate to run applications using shared computing resources. It's a network-based hosting solution that allows businesses to use computing resources as if they were utilities.
Users can use as many resources as they require without needing to develop and manage their own computing infrastructure. The resources are distributed over many servers, minimizing the likelihood of downtime due to a server failure.
Cloud-based hosting is flexible, which means the site can expand over time and use as many
services as it needs, with the website owner only paying for what they need.
Visit AWS for a cloud services inspiration.
Managed hosting
The majority of hosting packages available online are likely to be handled. Professional services such as hardware and software setup and configuration, servicing, hardware repair, technical assistance, patching, upgrading, and monitoring are provided by hosting companies. The provider manages the hardware, operating systems, and standardized software on a day-to-day basis with managed hosting.
When it comes to web hosting, there are many choices to choose from, but it all boils down to finding a package that meets your needs. Each plan caters to the needs of various groups, so knowing what you need in a website will help you choose the best plan for you and your business.
There are many good options for this type of hosting, make sure to get to know every offer out there.
Colocation
Rather than storing servers in-house or in a private data center, you can rent space in a colocation facility and "co-locate" them. Your server will be provided with the requisite power, bandwidth, IP address, and cooling systems by the data center. To rent out rooms, racks and cabinets are used.
Colocation offers far more space at a lower cost than a typical office server room. You'll be on your own (literally), and you'll be in charge of everything, including hardware, software, and services.
Check out some of the applicants for this type of hosting.
WordPress hosting
Many web hosting servers are now providing "Managed WordPress Hosting" as a result of the popularity of WordPress as a web-building tool.
In a nutshell, controlled WordPress hosting is a service in which your web hosting company keeps your WordPress installation up to date, which can help protect your website from security threats that might give hackers access.
While more expensive than shared web hosting, this is an excellent option for new and existing businesses that use WordPress.
Check out some options.
How to choose the best hosting plan?
When it comes to web hosting, there are many choices to choose from, but it all boils down to finding a package that meets your needs. Each plan caters to the needs of various groups, so knowing what you need on a website will help you choose the best plan for you and your business.