Vera Ljubav Nada | #givingback and sharing a mutual goal
Mahatma Gandhi said - "The greatness of humanity is not in being human, but in being humane."
In the heart of a place called Sajkas, there is an association called Vera Ljubav Nada. They bring together people with disabilities and children with disabilities. Also, their parents and relatives. Professional associates in the field of social protection - psychologists, social workers, pedagogues, friends. And everyone else who wants to contribute to the company of this marginalized group.

Therefore, when we found out all about the amazing work that they do with unconditional love we decided to visit them and help them as much as we can by #givingback.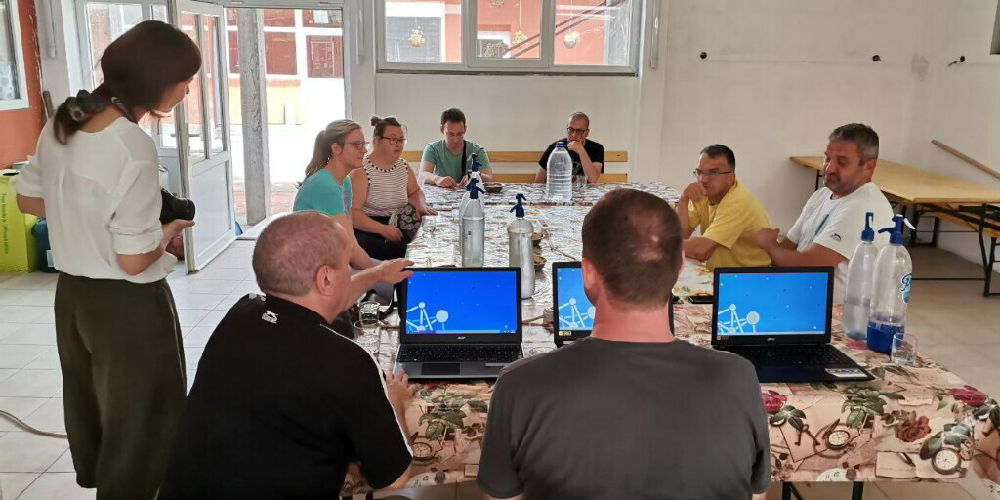 Miodrag Blizanac, Maja Dunovic, and the wonderful people of Vera Ljubav Nada welcomed us with an open heart and showed us their home. A place where we instantly felt that everything that they do for people with disabilities and children with disabilities comes from pure humanity and dedication to help those in need feel that they matter the most. Because they do.

Miodrag and Maja told us a little about how their story began:
"The association Vera Ljubav Nada has existed since March 2010. Although the idea for its founding began with the first performance of the Theater of Good Vibrations and the mixed-inclusive choir "Ison". These two sections are the beginning of an association that today has more than 180 members. Numerous sections and activities - from acting, singing, dancing, sports to fishing, activities with horses, orienteering. Vera Ljubav Nada is the organizer of the inclusive European festival Hearts in Harmony. This unique music festival always brings together a large number of people with disabilities. From the region and Europe who are involved in some kind of music (singing, playing, choirs). Through concerts and public performances, inclusion and its values ​​are promoted. And society is encouraged to behave more responsibly."

We had an opportunity to see how children spend their day with animals in nature. Miodrag told us that his goal is to learn them what it means to be diligent and devoted. By showing them how to take care of animals and by doing all the work that the countryside requires to grow and develop in the best possible way.
He also showed us their business unit where they produce their sparkling water. The goal is to make a unique brand of sparkling water that is handmade by children from Vera Ljubav Nada. But most importantly his goal is that every single person that comes to Vera Ljubav Nada feels loved, happy, and accepted. At the end of the day, that is most important, and we could not agree more with him.
Before we came, we thought about how we can contribute to Vera Ljubav Nada that has so many members. Therefore, we decided to donate three laptops. This way children have an opportunity to listen to music which they love and enjoy so much. Also, now they can put all of their concerts on YouTube and learn all that they are interested in. And there is so much that they want to learn, from streaming to web design.
No words can describe...
There are no words that can describe how thankful we are for the opportunity to meet the amazing people from Vera Ljubav Nada. We realized that we share the same goal. And that goal is - Making a difference.

Seeing the smile on all of our faces remembered us how important it is to try every day. Try to help as much as you can, try to be kind to everyone, and most importantly always try to be humane.

Till we see each other again, all we have to say is - thank you dear people from Vera Ljubav Nada. Thank you for the amazing day that we spent together. Thank you for doing admirable work. We cant wait to visit you again! :)