The Pains of Outsourcing – How to Avoid Them?
Ideally, if we are set on using the outsourcing services for part of our operation, we can expect operational cost reducing, access to global talent market and our company would, thanks to this approach be more effective and productive. Does it go that smoothly though?
Sure, we've heard about concerns, issues or other kinds of misfortunate cooperation between outsourcing company and the one seeking their services. We sure have. Does this mean all future endeavours to achieve successful outsourcing will be doomed? Certainly not! Many hosting companies have shared their fair trade on the wall of shame for having unreliable service, poor support, etc. Does this mean we need to build our own hosting service just so we could host a website online? Duh, no! Same goes with outsourcing companies - you need to be smart about it. Do your research, interview the company, ask all the questions.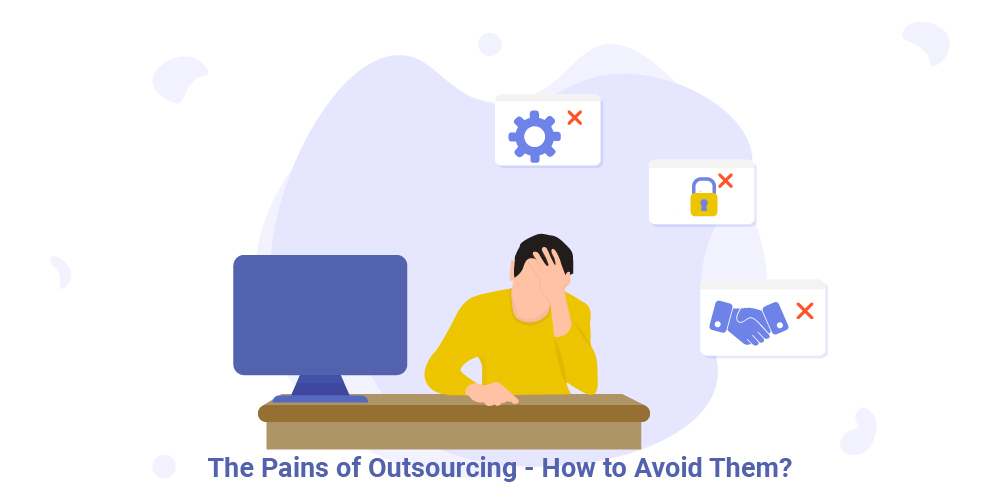 Lack of Trust
How about "I need to look them in the eye before signing a deal"? This is perfectly normal and you shouldn't break your rules on this one. However, we have evolved as an industry professionals and we can do that even if not being in the same room. You should do your due diligence, interview the outsourcing company representative.
One way or another, business owners should learn to build trust with off-site employees using methods other than eye contact. This doesn't mean you should blindly trust, it means, do your research, there are outsourcing companies with strong culture, string belief in the customer success and employee happiness.
Smooth communication is key to trust, so slow response time and one-word answers should raise a huge red flag. Feel free to ask any questions you have, especially technical ones. Prompt and clear feedback via e-mail, messengers, phone or other channels increases your chances of developing an effective relationship.
Quality of Service
Managers frequently note that poor quality of service as one of their biggest frustrations associated with outsourcing services. Even skilled teams with the best recommendations sometimes fail to deliver software products of the expected quality. To get the best results, you should clearly define your quality standards and take steps to guarantee their implementation. This means that even if a few things go wrong, your business partner should be willing to fix the situation; not a Band-Aid but a proper solution.
Pay special attention to feedback from the company's past clients, information about their past projects, and their sourcing and hiring process. The rapid expansion of the outsourcing industry means that many outsourcing companies lack the experience and technical expertise necessary to build this kind of cooperation successfully.
Security and Intellectual Property Concerns
When you send sensitive information to a remote team, there's always the danger of leakage. While working with remote tech team or remote developers, you might be required to share a lot of important information regarding your business, core operations, and other business assets. Not just the important details, you might also be required to share your resources and tools while working.
This challenge can be overcome by signing legally binding documents such as a non-disclosure agreement with the outsourcing vendor. The risk of data breach gets mitigated when the service provider follows stringent data protocols.
Also, you can solve security issues far more efficiently by developing a long-lasting partnership with a reliable service provider. As your relationship matures and you start treating each other as business partners, the odds of cheating and theft get lower. Instead, mutual trust enables you to double safety and security efforts.
Conclusion
Most risks mentioned in this blog, emerge when you delegate a project to a remote team for the first time. Before a company starts to look for an outsourcing partner, they need to set their expectations, needs, requirements, and priorities in order. A lasting business relationship based on transparency and trust is a universal cure for many worries, fears, and pains.