Hiring is a two-way process | Interview with Milorad Malcic
Milorad Malcic, Talent Acquisition Specialist at the BlueGrid.io
The coronavirus pandemic has disrupted organizations and caused human resources managers to think differently about their role as they adjust to social distancing practices and a new work environment that they may never have imagined.
We spoke with Milorad Malcic, whose main responsibility is to recognize the finest talent, introduce them to color "blue" and make the hiring process as easy as possible. Since December 2019. His primary role in BlueGrid.io is Talent Acquisition Specialist, but the truth is that besides a Master in Law degree and knowledge of the IT Industry, Milorad knows how to listen to his 'gut feeling'.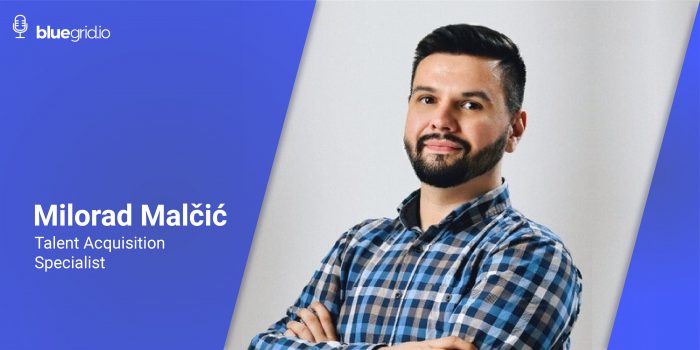 How do you personally deal with the current pandemic situation?
Milorad: Everything is a matter of habit. At first, it was difficult to structure my time and restore my work-life balance. I got a hang of it, creating small daily rituals and tasks that make me content. Also, Nintendo Switch helped a lot :D
What are the biggest challenges of remote recruiting?
Milorad: In short, not being able to interact with candidates in person since that is the time when I get the strongest impression of the candidate across the table. Video conferencing helps a lot, but it has its drawbacks in the sense that many candidates are uncomfortable in front of the camera.
What are the benefits of this kind of recruiting process?
Milorad: Since all our processes are online, you can increase the number of interviews and make your day as productive as possible. Also, due to this work environment candidates are more flexible with arranging the meet.
How do you maintain hiring quality during a pandemic?
Milorad: By dedicating more time to each candidate and trying to relate to their personal and professional life more deeply. Since we are all isolated, everyone appreciates a good conversation. With this informal style of the interview, we get a more detailed look into their personality, needs, and career development. This way we are sure that the candidate is a good culture fit for us.
What is the best practice for interviewing during the COVID-19 outbreak?
Milorad: Frequent communication is key. During our hiring processes, we are maintaining regular communication with our candidates in every step. Keeping in touch, giving updates, and being honest distinguishes you from other companies.
Do you think that remote hiring is the new future in a post-pandemic world?
Milorad: As I previously said, I believe nothing can replace in-person interaction. But the efficiency is surely an important aspect, so offering candidates the option they prefer would be a great mix.
Where do you see the HR industry in the next years?
Milorad: In the next decade, the millennials will become dominant in the workforce across industries. The focus will be on personalizing the processes, also making HR more agile and flexible will be a matter of making a great culture and succeeding in the business world. There will be no room for corporate styles of yesteryear.
Can you share some funny situations that happened during the online recruiting process?
Milorad: Let's just say it revolves around video calls, screen sharing, and Slack popup messages. Thankfully, the messages were a super positive towards all parties on the call. This was also a crash course for my
colleague and how to use a "window sharing" mode. :D
Your most important message for all applicants?
Milorad: Hiring is a two-way process; you are also supposed to review the company you're in the process with. Listen to your gut feeling and do not be afraid to ask a question, and spark conversation.
If you know someone who is currently going through an online recruitment process, send them a link, maybe it helps. Also, if you have additional questions you can always connect with Milorad here.
Stay online 😊.