BlueGrid.io #givingback | From the people to the people
As a company that invests a lot of energy in culture and people, we have decided to shift our focus in accordance with the current global health situation. How the end of the year usually looks in BlueGrid.io - Secret Santa, Craft beer tap in the office day before the company party, New year company party…
This all will look a bit different this time. In September of this year, we have decided to do something that will maintain the spirit and to put in the works the whole "Making a Difference" mission.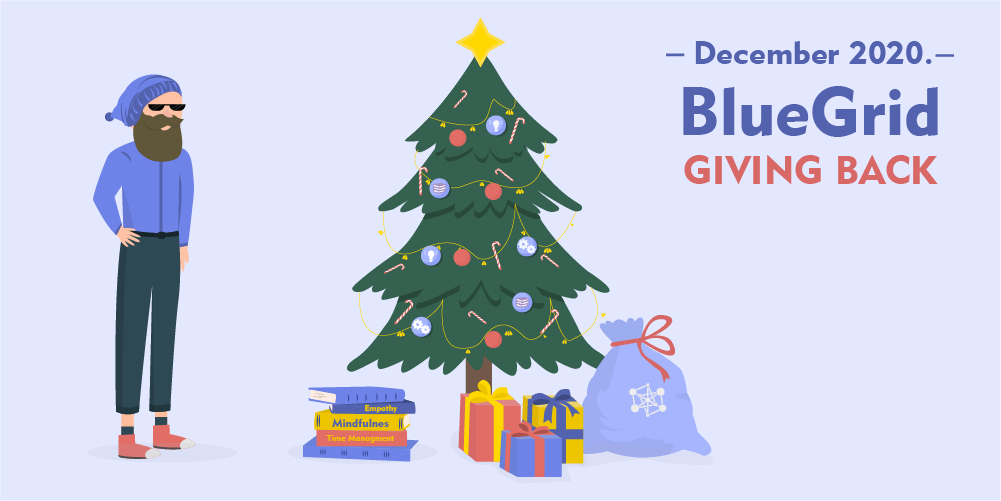 In order to maintain the positive vibe, culture, and overall atmosphere in the company we have implemented a series of online meets for us and the people to stay connected. Our HR team has played an especially important part in this aspect. 1on1 meets, the team meets, all staff meets, these are all points in time when we say (or at least try to say) "You are important to us! How are you?".
This is not just another tool we use in the managerial area; we are in this business because and for the people!
Undoubtedly, COVID-19 has forcefully brought the scenario in which a lot of people suffered. Many people have lost their jobs, those who were luckier became victims of different lockdown-caused problems, health systems collapsed leaving everyone to fall behind the priority list, yet many more are to be seen in the near future. This is not the question of "who lost the most?", it's the question of "how can we help each other?".
Giving Back Week
BlueGrid.io decided to put the budget for what we would usually organize for our people in the works of the community. We have created this event called "giving-back week" and, aside from the usual humanitarian actions we support, we wanted to help everyone copping with COVID-induced new reality.
The idea is to have 5 days and 5 guest speakers who can teach us how to deal with different aspects of our lives as long as the "new normal" is there:
12/14/2020 MONDAY - Mindfulness - the power of full attention and quiet thoughts
12/15/2020 TUESDAY - Efficient time management
12/16/2020 WEDNESDAY - Personal Finance Management
12/17/2020 THURSDAY - Emotional intelligence and the power of empathy
12/18/2020 FRIDAY - Philanthropy in Serbia - Goodness is contagious
"Be the change that you wish to see in the world."

- Mahatma Gandhi