Are WordPress websites good?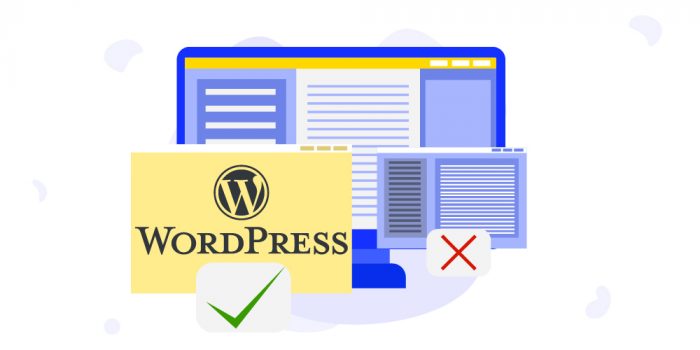 Are WordPress websites good? - In short
Sometimes we can find questions on the internet - are WordPress websites good? In our opinion, WordPress is the best choice for bloggers, business owners, developers with clients, and e-commerce specialists. Keep WordPress, themes, and plugins up to date, and everything will work perfectly.
WordPress is a great solution for someone who does not know how to code, and it is in need of a website. In addition, a lot of agencies are using WordPress as a tool to create websites for their clients.
What is WordPress?
What exactly is WordPress? With WordPress, you can create any kind of website or blog with ease. WordPress is responsible for 41% percent of all websites on the internet. Yup, WordPress powers more than one-fourth of the websites you visit.
WordPress is an open-source content management system released under the GPLv2 license, which means that anybody can use or change the WordPress software for free. A content management system (CMS) is a technology that allows you to manage components of your website, such as content, without having to know how to code.
How WordPress works?
WordPress, unlike other website builders, keeps design, content, and functionality distinct.
To put it another way, you can add content independently of the design you're using, change the design without impacting the content, and add new features without affecting the rest of the site.
Adding content
WordPress saves content to a database and media files to a separate location. Primarily you will add content to the website by using WordPress block editor or page builders. For beginners, the block editor or page builders are relatively simple to use. It allows you to write content and style it with ease.
Changing design and appearance with WordPress Themes
To control the appearance of a website, WordPress makes use of a strong templating engine. Developers can use this templating engine to generate a collection of templates known as 'Themes.' On the market, there are thousands of pre-made free or paid WordPress themes.
A stylesheet and basic template files are included with each WordPress theme to show different portions of a typical WordPress website.
Depending on the theme you're choosing, it'll come with its own set of options for customizing the look of your website. Some themes may provide a lot more possibilities for theme modification than others. The great thing for non-developers is that you can customize everything without a need for code.
Choose from thousands of free and premium WordPress themes to design your website. You can use your own colors, layout combinations, and logos with these themes.
Also, you can hire someone to build a custom WordPress theme from scratch. Of course, this will be much more expensive than choosing a free or premium WordPress theme.
You can search for themes on WordPress Themes and Themeforest.
Adding more functionalities with Plugins
WordPress has become the go-to platform for developers to write their own plugins as a result of its popularity.
For your WordPress site, plugins are similar to apps. You can install WordPress plugins to add new features to your website in the same way that you can install applications on your phone.
There are different kinds of plugins. For example, there are plugins for creating Contact Form, SEO checker plugins, Website optimization plugins, Caching plugins, plugins for creating E-shop, Security plugins, Back-up plugins, etc.
You can check what kind of plugins are available here.
What websites can you create with WordPress?
For many years, WordPress used to be largely a platform for creating blogs, rather than more standard websites or shops. But not for a long time. Now you can create almost any kind of website, thanks to updates on the core code and a large number of plugins and themes.
It may be used to create a blog, a small company website, an online store, a membership site, sell online courses, run a marketplace, and much more.
Whatever type of website you want to create, there is almost certainly an existing WordPress plugin (extension) or theme for it. If you can't find what you're looking for, you can easily hire one of the thousands of developers to create it for you.
Pros and Cons of WordPress
WordPress, like anything else in the world, has its own set of benefits and drawbacks that you should think about before launching your website.
Pros of using WordPress
WordPress is a free platform that provides you total control over your website. You own and manage all of the files and data on your website. You can migrate your website wherever you wish if needed.
It gives you access to a large number of extensions, add-ons, and plugins that you may use to customize your website. With so many professional programs at your disposal, you can create anything you desire.
Because you are the one in charge of your website, you can do whatever you want, keep the website simple, add new featured, etc. You may speed up your website and employ all of the useful SEO best practices to attract new visitors.
With thousands of website designs and themes to select from, it's really simple to personalize your website. Each theme offers a variety of customization choices. It can help you construct genuinely one-of-a-kind websites. Simply said, it simplifies the process of creating a website.
Practically all prominent third-party solutions already have WordPress integrations, because of its popularity. You can integrate WordPress with email marketing software, SEO tools, CRM software, payment gateways, etc.
Cons of WordPress
While we love using WordPress, it is not without flaws. It has various disadvantages that you should consider while deciding on a platform.
Your website is under your control. This means you're also in charge of security, backups, and software updates. All of this can be automated, but unless you use one of these managed WordPress hosting firms, those updates will still need your attention. If you are not familiar with WordPress you will need to hire someone.
WordPress does not have a drag-and-drop website builder built-in. Most newcomers will need some time to become familiar with it and learn the fundamentals. You can, however, utilize one of the popular WordPress drag-and-drop page builder plugins like Elementor, Divi, etc.
To utilize WordPress, you don't need to know how to code. A basic understanding of HTML and CSS, on the other hand, will make things a lot easier. As they use WordPress, most newcomers pick up these fundamental skills.
Having too many installed plugins may slow down the WordPress website.
Conclusion
WordPress is incredibly adaptable, which is why it is such a popular platform for creating websites. WordPress can be used to create practically any type of website.
In most cases, WordPress is a wonderful solution for creating company websites. Using WordPress you will be able to design a professional, personalized, user-friendly, and SEO-friendly business website.
WordPress websites are great if they are maintained correctly and not overburdened with too many unnecessary things, like inactive plugins, themes, etc. Keep your WordPress website clean and tidy and everything will work like a Swiss clock.